The International Family Guide to US University Admissions
ISBN: 978-1-119-37098-7
324 pages
July 2017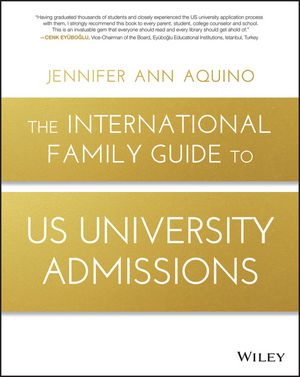 Expert guidance for international families and students
applying for admission to US universities
Written by an experienced international educator and counselor, The International Family Guide to US University Admissions is an indispensable resource for the vast and increasing number of students applying for places at US Universities each year. Beginning with an introduction that explains to both students and parents how the book works and why, it offers milestones that must be completed during said application time period, a tried-and-true handbook that corresponds with each chapter, pop-outs that provide expert insight and resources that you should utilize throughout the process.
Every year, hundreds of thousands of international students and their families must go through the painstaking, complicated, confusing and culturally baffling process that is US university admissions. Until now, there has been no single resource for readers to turn to for holistic, accurate and up-to-date advice on the subject. Following the timeline of the US university admissions cycle, the book guides the parents and the student through the entire process in order to ensure that they are pacing themselves appropriately – from preparation to submission and through to applying for student visas. It serves as an advisor throughout the process, providing insightful advice by parents and students that are relevant to specific milestones. With the help of this book, you'll discover how to make sense of the US admissions system – from start to finish.
Understand the application and evaluation process in depth in order to be an informed and successful applicant
Make your schooling selection from over 3,000 US universities by understanding what would make a good fit for the student
Learn what is expected of you in writing essays, why it is important, and how to create beautiful, genuine writing pieces reflective of your outlook in life
Enjoy case studies and words of advice from the author's former students and their families
Understand the difference between the SAT and ACT exams
Whether you're an international student living outside of the US or an ex-pat living abroad, you'll find answers to all of your questions – all in one place.
See More
Preface ix
Acknowledgments xiii
About the Author xv
Introduction xvii
Chapter 1 And You Are. . .? 1
Chapter 2 You've Got to Understand How It Works to Win 19
Chapter 3 Being Your Nerdiest Self . . .and Taking Time to Do It 49
Chapter 4 Your Goldilocks Moment 83
Chapter 5 Less Snap-Chatting and More Real-Chatting 107
Chapter 6 School's [Not] Out For Summer! 139
Chapter 7 You Can't Fake It 161
Chapter 8 The Pressure Is On! 175
Chapter 9 The Busiest Month of Your Life 195
Chapter 10 The Final Month of Writing College Applications. . .Ever? 209
Chapter 11 A Rite of Passage in the Making 223
Chapter 12 Anticipating, Deciding, and Arriving 237
Conclusion: The Beginning of the Rest of Your Life 251
The Writing Handbook 265
References 287
Index 289
See More
JENNIFER ANN AQUINO has over 20 years of experience in the field of international education spanning four continents from teaching, admissions and fundraising to educational publishing and university management. Her deep and varied global experiences in international education have afforded her a unique understanding and perspective of the competitive and ever-changing sector of international education. Born in the US, she has lived and worked in education in Europe, Asia, the Pacific and is based between Geneva and Singapore. Jennifer works with individual families, students, schools and institutions. Her website is www.jenniferannaquino.com.
See More