Trend Following: How to Make a Fortune in Bull, Bear and Black Swan Markets, 5th Edition
ISBN: 978-1-119-37187-8
688 pages
April 2017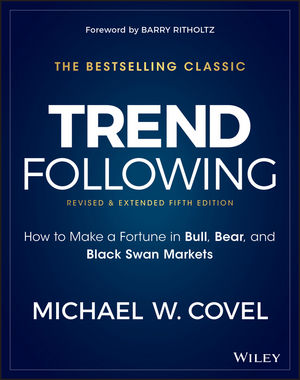 Want to take the financial journey to a new investing philosophy that might very well affect the rest of your moneymaking life? No one can guarantee the yellow brick road, but Michael Covel promises the red pill will leave you wide freaking awake.
Trend Following reveals the truth about a trading strategy that makes money in up, down and surprise markets. By applying straightforward and repeatable rules, anyone can learn to make money in the markets whether bull, bear, or black swan—by following the trend to the end when it bends. In this timely reboot of his bestselling classic, Michael Covel dives headfirst into trend following strategy to examine the risks, benefits, people, and systems. You'll hear from traders who have made millions by following trends, and learn from their successes and mistakes—insights only here. You'll learn the trend philosophy, and how it has performed in booms, bubbles, panics and crashes. Using incontrovertible data and overwhelming supporting evidence, with a direct connection to the foundations of behavioral finance, Covel takes you inside the core principles of trend following and shows everyone, from brand new trader to professional, how alpha gets pulled from the market.
Covel's newest edition has been revised and extended, with 7 brand new interviews and research proof from his one of kind network. This is trend following for today's generation. If you're looking to go beyond passive index funds and trusting the Fed, this cutting edge classic holds the keys to a weatherproof portfolio.
Meet great trend followers learning their rules and philosophy of the game
Examine data to see how trend following excels when the you-know-what hits the fan
Understand trend trading, from behavioral economics to rules based decision-making to its lambasting of the efficient markets theory
Compare trend trading systems to do it yourself or invest with a trend fund
Trend following is not prediction, passive index investing, buy and hope or any form of fundamental analysis. It utilizes concrete rules, or heuristics, to profit from a behavioral perspective. Trend Following is clear-cut, straightforward and evidence-based and will secure your financial future in bull, bear and black swan markets. If you're finally ready to profit in the markets, Trend Following is the definitive treatise for a complex world in constant chaos.
See More
Foreword
Preface
Section I: Trend Following Principles
Chapter 1: Trend Following
Speculation
Winning v. Losing
Investor v. Trader
Fundamental v. Technical
Discretionary v. Systematic
Hiding in Plain Sight
Change Is Life
Follow the Trend to the End When It Bends
Surf the Waves
Chapter 2: Trend Followers
David Harding
Bill Dunn
John W. Henry
Ed Seykota
Keith Campbell
Jerry Parker
Salem Abraham
Richard Dennis
Richard Donchian
Jesse Livermore
Dickson Watts
Chapter 3: Performance Data
Absolute Returns
Volatility v. Risk
Drawdowns
Correlation
Zero-Sum
George Soros
Berkshire Hathaway
Chapter 4: Big Events, Crashes and Panics
Great Recession
Dot-com Bubble
Long-Term Capital Management
Asian Contagion
Barings Bank
Metallgesellschaft
Black Monday
Chapter 5: Thinking Outside the Box
Baseball
Billy Beane
Bill James
Stats Take Over
Chapter 6: Human Behavior
Prospect Theory
Emotional Intelligence
Neuro-Linguistic Programming
Trading Tribe
Curiosity Not PhDs
Commitment
Chapter 7: Decision-Making
Occam's Razor
Fast and Frugal Decision-Making
Innovator's Dilemma
Process v. Outcome v. Gut
Chapter 8: The Scientific Method
Richard Feynman
Critical Thinking
Linear v. Nonlinear
Compounding
Chapter 9: Holy Grails
Buy and Hope
Warren Buffett
Losers Average Losers
Avoiding Stupidity
Chapter 10: Trading Systems
Risk, Reward & Uncertainty
Five Questions
Your Trading System
Frequently Asked Questions
Chapter 11: The Game
Acceptance
Don't Blame Me
Decrease Leverage Decrease Return
Fortune Favors the Bold
Section II: Trend Following Interviews
Chapter 12: Ed Seykota
Chapter 13: Martin Lueck
Chapter 14: Jean-Philippe Bouchaud
Chapter 15: Ewan Kirk
Chapter 16: Alex Greyserman
Chapter 17: Campbell Harvey
Chapter 18: Lasse Pedersen
Section III: Trend Following Research
Chapter 19: A Multicentennial View of Trend Following
Chapter 20: Two Centuries of Trend Following
Chapter 21: Trend Following: Quality, Not Quantity
Chapter 22: Evaluating Trading Strategies
Chapter 23: Black Box Trend Following – Lifting the Veil
Chapter 24: Risk Management
Chapter 25: How to Grab a Bargain Trading Futures … Maybe
Chapter 26: Why Tactical Macro Investing Still Makes Sense
Chapter 27: Carry and Trend in Lots of Places
Chapter 28: The Great Hypocrisy
Chapter 29: Who Are You?
Epilogue
Trend Following Podcast Episodes
Notes
Bibliography
Acknowledgments
About the Author
Index
See More
Michael W. Covel is characterized as "essential" and "required reading." He teaches beginners to seasoned pros how to generate profits with straightforward repeatable rules and is best known for popularizing the controversial trading strategy TREND FOLLOWING. An avowed entrepreneur, Covel is the author of five books including the international bestseller, Trend Following and his investigative narrative, TurtleTrader. His podcast, featuring Nobel Prize winners to renowned market masters, has 5+ million listens and 500+ episodes. Fascinated by reclusive traders who have quietly generated spectacular returns for decades, those going against the investment orthodoxy of "efficient markets", Covel has uncovered astonishing insights about human behavior, decision-making and trading systems. His books have been published in fourteen languages and his podcast has listeners in 188 countries.
See More
More in this series