E-book
Inspired Leadership: How You Can Achieve Extraordinary Results in Business
ISBN: 978-1-119-38310-9
280 pages
August 2017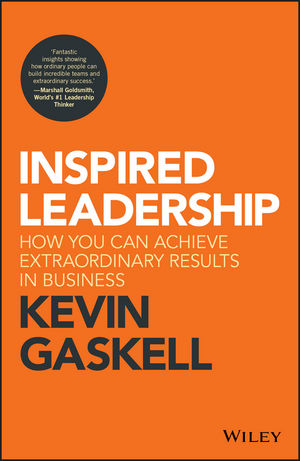 Elevate your leadership to achieve the extraordinary
Inspired Leadership is the essential guide to performing at the highest level every day. As CEO of Porsche, author Kevin Gaskell led the company from near-bankruptcy to the most profitable car company. During his four years at BMW, the company saw 80% growth in sales and 500% increase in profitability. Good leaders get results and great leaders get great results—but Inspired Leaders get extraordinary results, turn around companies, ensure people development and turn brands into household names. This book shows you how to become an Inspired Leader. Workable strategies, practical frameworks, and real-world essential skills give you a concrete curriculum for success, while anecdotes and examples drawn from the author's experiences illustrate important concepts in action.
Inspirational, aspirational, and deeply instructional, this guide will become your go-to resource for navigating the leader's role. From tricky situations to everyday interactions, you'll learn the skills and outlook you need to take your leadership to the next level.
Learn what Inspired Leadership looks like in terms of results
Discover the key factors that separate Inspired leaders from the merely "great"
Adopt the tools and processes that get extraordinary results in the real world
Understand the essential core of high performance, and incorporate it into your day-to-day
Quality leadership is the difference between success and failure, but Inspired Leadership is the difference between success and world-class performance. It requires 360-degree attention, laser focus, authentic relationships, and a rock-solid understanding of the leader's role. When you're ready to achieve the extraordinary, Inspired Leadership is the resource to keep within arm's reach.
See More
Acknowledgements ix
About the Author xi
Introduction xiii
PART ONE: Commit 1
1 Dare to Dream 3
2 Build Belief 15
3 How Good Do You Want to Be? 33
4 Make the Impossible Possible 47
5 Confront the F Word 67
PART TWO: Connect 81
6 Begin at the End 83
7 A Simple Plan 101
8 Don't Be a Genius, Make a Genius 129
9 Be Better First, Then Bigger 143
10 In Command, Out of Control 157
PART THREE: Create 173
11 Are We Having Fun Yet? 175
12 No One Is an "Only a …" 193
13 Catch In, Don't Catch Out 211
14 Sustaining Success 223
Afterword: Wait Until the Sun Comes Up 241
Bibliography 245
Index 249
See More
KEVIN GASKELL was the youngest Managing Director of Porsche, Lamborghini, and BMW, leading all three companies to record growth and performance. Gaskell is a corporate trailblazer who has enjoyed 25 years of success as a business leader; founding startups, driving turnarounds and leading major brands in a variety of sectors. The teams he has led have created over £3 billion in shareholder value.
Gaskell is a serial entrepreneur and investor. His portfolio of companies has received awards including: best private equity investment performance of the year, strategic ecommerce business of the year, world's seventh most innovative company and Insight Innovation winner Europe.
www.kevingaskell.com
www.theinspiredleaders.com
See More