CWTS, CWS, and CWT Complete Study Guide: Exams PW0-071, CWS-2017, CWT-2017
ISBN: 978-1-119-38503-5
600 pages
October 2017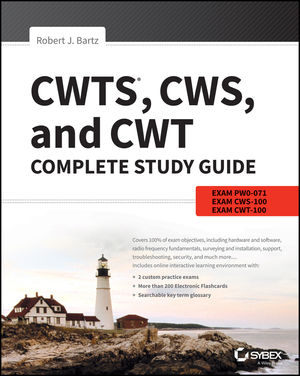 The must-have guide to the CWTS exam, updated for 2017
CWTS Certified Wireless Technology Specialist Study Guide is your number-one resource for comprehensive exam preparation. Updated to study in 2017 and beyond, this book takes a multi-modal approach to ensure your complete confidence and ability for the big day: full coverage of all CWTS exam objectives reinforces your conceptual knowledge, hands-on exercises help hone your practical skills, and the Sybex online learning environment provides flashcards, a glossary, and review questions to help you test your understanding along the way. An objective map and pre-assessment test allow for more efficient preparation by showing you what you already know and what you need to review—and the companion website's complete practice exams give you a "dry run" so you can pinpoint weak areas while there's still time to improve. If you're serious about earning your CWTS certification, this book is your ideal companion for complete and thorough preparation.
Learn critical concepts and apply essential skills in areas like hardware and software, radio frequency fundamentals, surveying and installation, support, troubleshooting, security, and more. This guide gives you everything you need to approach the exam with confidence.
Master 100 percent of the CWTS exam objectives
Use effective planning tools to get the most out of your study time
Practice your skills with hands-on exercises and real-world scenarios
Access online study aids that let you review any time, any place
The CWTS certification gets your foot in the door of a growing industry, and is a stepping stone to the industry standard CWNP certification. The exam will test your abilities in all fundamental areas of Wi-Fi technology, so it's important that your study plan be complete and up-to-date. CWTS Certified Wireless Technology Specialist Study Guide is your ideal solution for comprehensive preparation.
See More
Introduction xvii
Assessment Test xl
Chapter 1 Computer Networking Fundamentals 1
Network Types 2
The Local Area Network 3
The Wide Area Network 3
The Metropolitan Area Network 4
The Campus Area Network 5
The Personal Area Network 6
Network Topologies 7
The Bus Topology 8
The Ring Topology 9
The Star Topology 10
The Mesh Topology 10
Ad Hoc Connections 12
Point-to-Point Connections 13
Point-to-Multipoint Connections 13
The OSI Model 14
Layer 1 – The Physical Layer 15
Layer 2 – The Data Link Layer 16
Layer 3 – The Network Layer 17
Layer 4 – The Transport Layer 17
Layer 5 – The Session Layer 18
Layer 6 – The Presentation Layer 18
Layer 7 – The Application Layer 18
How the Layers Work Together 18
Peer-Layer Communication 19
Data Encapsulation 20
Device Addressing 21
Physical Addressing 22
Logical Addressing 23
Network Address Translation 25
Summary 27
Exam Essentials 28
Review Questions 30
Chapter 2 Wireless Local Area Networking, Standards, and Certifications 35
The Wireless Computer Network 36
The Wireless Personal Area Network 36
The Wireless Local Area Network 37
The Wireless Metropolitan Area Network 37
The Wireless Wide Area Network 38
Building-to-Building Connectivity Using Wireless LAN
Technology 38
Wireless Point-to-Point Connections 38
Wireless Point-to-Multipoint Connections 39
Radio Frequency Regulatory Domain Governing
Bodies and Local Regulatory Authorities 40
United States: Federal Communications Commission 41
Europe: European Telecommunications
Standards Institute 42
The IEEE 42
The IEEE 802.11 Standard 43
The IEEE 802.11a Amendment 44
The IEEE 802.11b Amendment 45
The IEEE 802.11g Amendment 46
The IEEE 802.11n Amendment 49
The IEEE 802.11ac Amendment 50
Summary of IEEE 802.11 Communications Standards and Amendments 52
Additional IEEE 802.11 Amendments 53
Interoperability Certifications 55
The Wi-Fi Alliance 56
The Wi-Fi Protected Access Certification 56
The Wi-Fi Protected Access 2 Certification 57
The Wi-Fi Multimedia Certification 58
Wi-Fi Multimedia Power Save Certification 58
Wi-Fi Protected Setup Certification Overview 58
Common Wireless Local Area Network Deployment Scenarios 59
Small Office/Home Office 60
Enterprise Deployments: Corporate Data Access and End-User Mobility 61
Extension of Existing Networks into Remote Locations 62
Public Wireless Hotspots (Public Wi-Fi) and Hospitality 62
Office (Carpeted) Deployments 64
Educational Institution Deployments 64
Industrial Deployments 67
Healthcare Deployments 67
Last-Mile Data Delivery: Wireless ISP 69
High-Density Deployments Including Conference Centers 70
Municipal, Law Enforcement, and Transportation Networks 71
Summary 71
Exam Essentials 72
Review Questions 73
Chapter 3 Infrastructure and Client Devices Used with Wireless Networking 77
The Wireless Access Point 80
Autonomous Access Points 82
Controller-Managed Access Points 91
Cloud-Managed Access Points 93
Wireless Branch Router/Remote Access Point 94
Wireless Mesh 95
Wireless Bridges 96
Wireless Repeaters/Range Extenders 97
Wireless LAN Controllers and Cloud-Managed Architectures 98
Centralized Administration 99
Virtual Local Area Networks 99
Power over Ethernet Capability 99
Improved Mobile Device Transition 100
Wireless LAN Profiles and Virtual Wireless LANs 100
Advanced Security Features 100
Captive Web Portals 100
Built-in RADIUS Services 101
Predictive Modeling Site Survey Tools 101
Radio Frequency Spectrum Management 101
Firewalls 101
Quality of Service 102
Infrastructure Device Redundancy 102
Wireless Intrusion Prevention System 102
Direct and Distributed Access Point Connectivity 102
Layer 2 and Layer 3 Access Point Connectivity 102
Distributed and Centralized Data Forwarding 103
Power over Ethernet 104
Power Sourcing Equipment 105
Powered Devices and Classification Signatures 106
Benefits of PoE 107
Radio Hardware Used with Wireless LAN Technology 108
USB 1.0, USB 1.1, USB 2.0, and USB 3.0 108
Features of USB 109
Installation and Configuration of USB Devices 110
Peripheral Component Interconnect 112
Features of PCI 112
Installation and Configuration of PCI Cards 113
Mini-PCI, Mini-PCIe, and Half Mini-PCIe 115
Features of Mini-PCI, Mini-PCIe, and Half Mini-PCIe Cards 116
Installation and Configuration of Mini-PCI, Full Mini-PCIe, and Half Mini-PCIe Cards 117
Wireless Workgroup Bridges 118
Features of Wireless Workgroup Bridges 119
Installation and Configuration of Wireless Workgroup Bridges 120
Client Device Drivers 121
Client Utility Software 121
Manufacturer-Specific Client Utilities 122
Third-Party Client Utilities 123
Summary 124
Exam Essentials 125
Review Questions 126
Chapter 4 Radio Frequency Fundamentals for Wireless Networking 131
Understanding Radio Frequency 133
Wavelength in Wireless LANs 136
Frequency in Wireless LANs 137
Amplitude in Wireless LANs 138
Phase in Wireless LANs 138
Radio Frequency Used in Wireless LANs 139
Wireless LAN Coverage and Capacity 143
Wireless LAN Coverage 144
Wireless LAN Capacity 146
Radio Frequency Channel Reuse and Device Co-location 149
Radio Frequency Range and Speed 150
Line of Sight in Wireless Networking 150
Wi-Fi and Non–Wi-Fi Interference 152
Adjacent Channel and Co-channel Interference 152
WLAN/WPAN Interference 154
Environment: Radio Frequency Behavior 155
Basic Units of Radio Frequency Measurement 158
Absolute Measurements of Radio Frequency Power 158
Relative Measurements of Radio Frequency Power 160
Radio Frequency Signal Measurements 162
Summary 166
Exam Essentials 167
Review Questions 168
Contents ix
Chapter 5 Antenna Technology for Wireless Networking 171
Basic Radio Frequency Antenna Concepts 172
Radio Frequency Lobes 173
Antenna Beamwidth 173
Antenna Gain 176
Passive Gain 176
Active Gain 178
Antenna Polarization 178
Wireless LAN Antenna Types 180
Omnidirectional Antennas 180
Omnidirectional Antenna Specifications 182
Semidirectional Antennas 184
Highly Directional Antennas 193
Highly Directional Antenna Specifications 194
Radio Frequency Cables and Connectors 195
Radio Frequency Cable Types 196
Radio Frequency Cable Length 196
Radio Frequency Cable Cost 197
Impedance and VSWR 197
Radio Frequency Connectors 198
Factors in Antenna Installation 199
Addressing the Effects of Earth Curvature 199
Antenna Placement 199
Minimizing the Effects of Multipath Using Antenna Diversity 200
Combating Effects of Wind and Lightning in
Wireless LAN Installations 201
Lightning Arrestors 202
Grounding Rods 203
Installation Safety 203
Antenna Mounting 203
Internal and External (to the Access Point) Antennas 204
Pole/Mast Mount 205
Ceiling Mount 206
Wall Mount 206
Maintaining Clear Communications 206
Visual Line of Sight 207
Radio Frequency LoS 207
Fresnel Zone 207
Summary 208
Exam Essentials 209
Review Questions 211
Chapter 6 Communication for Wireless Networking 215
Wireless LAN Operation Methods 216
The Independent Basic Service Set 217
The Basic Service Set 222
The Extended Service Set 224
The Basic Service Area 225
Connecting to an IEEE 802.11 Wireless Network 227
IEEE 802.11 Frame Types 227
Wireless Network Discovery 228
Passive Scanning 228
Active Scanning 230
IEEE 802.11 Authentication 231
IEEE 802.11 Association 235
IEEE 802.11 Deauthentication and Disassociation 236
The Distribution System 237
Data Rates 238
Throughput 240
Dynamic Rate Switching 246
Wireless LAN Transitioning/Roaming 247
IEEE 802.11 Power Save Operations 249
Active Mode 249
Power Save Mode 250
Automatic Power Save Delivery 251
IEEE 802.11 Protection Mechanisms 251
IEEE 802.11g Extended Rate Physical Protection
Mechanisms 252
IEEE 802.11n High-Throughput Protection Mechanisms 253
Summary 254
Exam Essentials 256
Review Questions 257
Chapter 7 Modulation Technology for Wireless Networking 261
Network Access Methods 262
Detecting Network Traffic Collisions with CSMA/CD 263
Avoiding Network Traffic Collisions with CSMA/CA 264
Reserving Time for Data Transmission Using Distributed Coordination Function 265
Effects of Half-Duplex on Wireless Throughput 266
Narrowband vs. Spread-Spectrum Communication 267
Spread-Spectrum Technology 269
Frequency-Hopping Spread Spectrum 269
802.11 Direct-Sequence Spread Spectrum 270
802.11b High Rate/Direct-Sequence Spread Spectrum 271
IEEE 802.11 DSSS and HR/DSSS Channels 271
IEEE 802.11g Extended Rate Physical 273
IEEE 802.11n High Throughput 275
IEEE 802.11a, 802.11g, 802.11n, and 802.11ac OFDM 275
IEEE 802.11a, 802.11g, 802.11n, and 802.11ac OFDM Channels 276
IEEE 802.11n/ac Multiple Input/Multiple Output Technology 278
IEEE 802.11n/ac MIMO Channels 280
Co-location of IEEE 802.11b HR/DSSS
and IEEE 802.11a/g/n OFDM Systems 282
Adjacent-Channel and Co-channel Interference 284
WLAN/WPAN Coexistence 285
Summary 287
Exam Essentials 287
Review Questions 289
Chapter 8 Security Fundamentals for Wireless Networking 293
Introducing IEEE 802.11 Wireless LAN Security 295
Wireless LAN Threats and Intrusion 295
IEEE 802.11 Standard Security 297
IEEE 802.11 Open System Authentication 298
IEEE 802.11 Shared-Key Authentication 298
Early Wireless LAN Security Methods 298
The Service Set Identifier 299
SSID Hiding 299
The Media Access Control Address 300
MAC Address Filtering 301
MAC Address Spoofing 302
IEEE 802.11 Authentication and Data Encryption 302
About Wired Equivalent Privacy 303
How Wired Equivalent Privacy Was Used 303
IEEE 802.11 SOHO and Enterprise Security Technologies 304
Wi-Fi Protected Setup PIN-Based or Push-Button
Configuration Wireless Security 304
PIN-Based Security 305
Push-Button Configuration Security 306
Wi-Fi Protected Access and WPA2 Personal Security 307
Passphrase Characteristics 307
WPA and WPA2 Enterprise Security 308
IEEE 802.1X/EAP 308
IEEE 802.1X 309
Extensible Authentication Protocol 310
IEEE 802.1X and EAP Together: IEEE 802.1X/EAP 310
Remote Authentication Dial-In User Service 310
Authentication, Authorization, and Accounting 312
IEEE 802.11 Encryption Methods 313
Wired Equivalent Privacy 314
Temporal Key Integrity Protocol 315
Counter Mode with Cipher Block Chaining Message
Authentication Code Protocol 316
Role-Based Access Control 317
Virtual Private Networking 318
Point-to-Point Tunneling Protocol 320
Layer 2 Tunneling Protocol 320
Components of a VPN Solution 320
The Wireless Intrusion Prevention System 328
WIPS Configuration and Maintenance 330
Overlay and Integrated WIPS Technology 331
The Captive Portal 334
Wireless Network Management and Monitoring Systems 334
WNMS: Software, Hardware, or Cloud? 335
Wireless Network Monitoring 337
Industry Regulatory Compliance 339
PCI Compliance 339
HIPAA Compliance 340
Summary 340
Exam Essentials 341
Review Questions 343
Chapter 9 Design for Wireless Networking 347
Wireless Site Surveys 349
Size of the Physical Location 351
Intended Use of the Wireless Network 351
Number of Wireless Devices 352
Wireless Client Device Capabilities 352
The Environment 353
Performance Expectations 353
Bring Your Own Device Acceptance 354
Building Age and Construction Materials 355
Network Infrastructure Devices 355
Gathering Business Requirements 356
General Office/Enterprise 357
Interviewing Stakeholders 358
Manufacturer Guidelines and Deployment Guides 362
Gathering Site-Specific Documentation 362
Floor Plans and Blueprints 362
Furnishings 363
Electrical Specifications 364
Existing Network Characteristics 364
Identifying Infrastructure Connectivity and Power
Requirements 366
Understanding Application Requirements 368
Understanding Radio Frequency Coverage and Capacity
Requirements 369
Client Connectivity Requirements 369
Antenna Use Considerations 370
The Physical Radio Frequency Site Survey Process 374
Radio Frequency Spectrum Analysis 375
Spectrum Analysis for IEEE 802.11 Wireless Networks 375
Wi-Fi and Non–Wi-Fi Interference Sources 378
Wi-Fi Interference 384
Received Signal Strength 385
Performing a Manual Radio Frequency Wireless Site Survey 387
Obtaining a Floor Plan or Blueprint 388
Identifying Existing Wireless Networks 388
Testing Access Point Placement 390
Analyzing the Results 391
Considering the Advantages and Disadvantages of Manual Site Surveys 391
Performing a Software-Assisted Manual Site Survey 392
Using a Manual Site Survey Toolkit 398
Performing a Predictive Modeling Site Survey 400
Internet-Based Predictive Modeling Site Survey 402
Performing a Post-Deployment Site Survey 403
Protocol Analysis 403
RF Coverage Planning 410
Infrastructure Hardware Selection and Placement 410
Testing Different Antennas 411
Testing Multiple Antenna Types 411
Choosing the Correct Antennas 412
Wireless Channel Architectures 413
Multiple-Channel Architecture 413
Single-Channel Architecture 414
Wireless Device Installation Limitations 414
Site Survey Report 415
Summary 417
Exam Essentials 418
Review Questions 420
Chapter 10 Mobile Device Management and BYOD Fundamentals 425
Mobile Device Management Solutions 427
The Software as a Service Solution 428
The On-Premises Solution 428
Common Mobile Device Operating System Platforms 430
The Mobile Application Store 431
Pushing Content to Mobile Devices 435
Mobile Device Management Administrative Permissions 436
Understanding Mobile Device Management High Availability and Redundancy 436
Mobile Device Management Device Groups 437
Location-Based Services 438
Geo-fencing 438
Geo-location 439
Mobile Device Telecommunications Expense Management 440
Captive and Self-Service Portals 440
Captive Portals 440
Self-Service Portals 441
General Technology Network and Security Policy 442
Security Policy Framework 443
Information Technology and Security Policy Implementation and Adherence 443
Acceptable Use Policy 445
Balancing Security and Usability 445
Backup, Restore, and Recovery Policies 445
Operating System Modifications and Customization 446
Operating System Vendors 446
Original Equipment Manufacturer 447
Vendor-Default Device Applications 447
Technology Profiles 448
Mobile Device Profiles 448
Directory Services Integration 449
Issuing Digital Certificates 450
End-User License Agreement 450
Understanding Group Profiles 451
Corporate-Owned Mobile Device Profiles 452
Employee-Owned Mobile Device Profiles 452
Outside Consultants' and Visitors' Mobile Device Profiles 453
Policy and Profile Pilot Testing 453
Summary 454
Exam Essentials 455
Review Questions 456
Chapter 11 Troubleshooting for Wireless Networking 461
Identifying Wireless LAN Problems 462
Radio Frequency Transmitters and Receivers 464
Wireless LAN Connectivity—Coverage and Capacity Problems 465
No Wireless Connectivity 465
Intermittent Wireless Connectivity Problems 473
Wireless LAN Throughput 477
Application Performance Problems 480
Wireless Device Software and Hardware Upgrades 481
Optimizing Wireless Networks 488
Wireless Infrastructure Hardware Selection and Placement 488
Identifying, Locating, and Removing Sources of Wi-Fi and Non-Wi-Fi Interference 489
Wireless Client Device Load Balancing and Infrastructure Device Redundancy 490
Wireless Infrastructure Device Redundancy 491
Analyzing Wireless Infrastructure Capacity and Utilization 492
Radio Frequency Performance Problems: Multipath 492
Radio Frequency Performance Problems: Hidden Node 493
Quality of Service Considerations 497
Summary 498
Exam Essentials 499
Review Questions 500
Appendix Answers to Review Questions 505
Chapter 1: Computer Networking Fundamentals 506
Chapter 2: Wireless Local Area Networking, Standards, and Certifications 508
Chapter 3: Infrastructure and Client Devices Used with Wireless Networking 509
Chapter 4: Radio Frequency Fundamentals for Wireless Networking 511
Chapter 5: Antenna Technology for Wireless Networking 512
Chapter 6: Communication for Wireless Networking 514
Chapter 7: Modulation Technology for Wireless Networking 516
Chapter 8: Security Fundamentals for Wireless Networking 517
Chapter 9: Design for Wireless Networking 519
Chapter 10: Mobile Device Management and BYOD Fundamentals 521
Chapter 11: Troubleshooting for Wireless Networking 525
Index 529
See More
Robert J. Bartz, CWNE, CWNT, is a technical trainer and consultant with more than 26 years of experience in computer networking technology. He has been involved with the CWNP program since its inception, and has taught vendor-neutral IEEE 802.11 wireless LAN technology to thousands of people globally. Robert is also the author of the first two editions of CWTS: Certified Wireless Technology Specialist Official Study Guide.
See More
Instructors Resources
Request a print evaluation copy
Contact us

See More
See Less
Learn more about