Can I Have Your Attention?: Inspiring Better Work Habits, Focusing Your Team, and Getting Stuff Done in the Constantly Connected Workplace
ISBN: 978-1-119-39046-6
240 pages
October 2017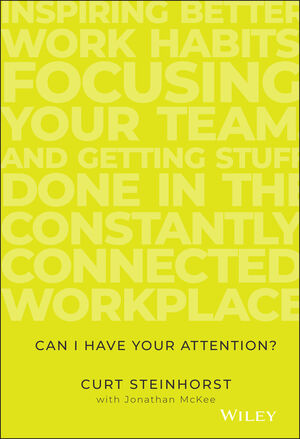 Cut through digital distraction to maximize performance
Studies show the average person will experience 3 distractions before they reach the end of this page, and the majority of those distractions will be self-initiated. Smart phones and social technology have blended endless opportunities to improve productivity with a barrage of distractions demanding our attention. People are spending more time being responsive to these technological interruptions than responsible for their job output. As a result, they aren't hitting deadlines or producing quality work, and don't understand why.
Can I Have your Attention? is the business leader's guide to cutting through the noise and getting your employees back to work. This book explains how a leader can turn chaos into focus, and implement a technology strategy with digital distraction in mind. The Smartphone isn't going away. Learn some simple rules and guidelines to improve focus and create the mental space needed for your people to work to their full potential.
You'll learn how to:
Overcome digital distractions and let your employees work
Minimize interruptions and limit unnecessary interaction
Establish a climate of focus and concentration
Engage intelligently with emerging technology
As job descriptions and workloads expand, the last thing your employees need is a productivity drain. Can I Have Your Attention? shows you how to reverse the current paradigm and make the workplace once again a place of work.
See More