Investing in Income Properties: The Big Six Formula for Achieving Wealth in Real Estate, 2nd Edition
ISBN: 978-1-119-39057-2
256 pages
March 2017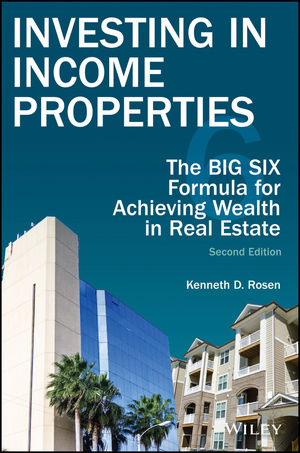 Create income property wealth
If you think tycoons are the only ones who can make big money in commercial real estate, think again. In Investing in Income Properties: The Big Six Formula for Achieving Wealth in Real Estate, real estate guru Ken Rosen lays out the fundamentals for building real estate wealth. By adhering to the Big Six, a step-by-step formula that has enabled the author to buy and sell over $500 million in investment real estate since 1975, you can take advantage of real estate opportunities and ensure your financial future.
This book explains:
What is the BIG SIX formula
How to find the right property
Using your IRA to invest
The romance of leverage
Overcoming fear
Real estate vs. stocks
Getting the money
Assembling the team
How to convert rentals to condos
Infinite returns
Types of income properties
Upside
You make your money in buying
Financing options
T.N.T
When it comes to understanding real estate investment, Investing in Income Properties stands alone for its straightforward approach and easy-to-understand explanations. It is a must-read for both beginners and seasoned pros.
See More
Acknowledgments xi
Introduction 1
Part One The Basics 5
Chapter 1 Why Commercial Real Estate? 7
Real Value, Real Ownership, Real Estate 8
The Control Factor 10
Financing Options 10
The Leverage Edge 11
Tax Benefits 11
Access to Information 13
Easy Troubleshooting 13
Overcoming Fear 14
The Bottom Line 18
Chapter 2 Real Estate 101 21
What Is Real Estate? 21
Types of Income Properties 21
What Real Estate Can Do for You 23
The Search Begins 23
Purchase and Sale Contracts 24
Closing 25
Education 26
Real Estate Lingo 28
The Bottom Line 29
Chapter 3 Assembling the Team 31
The Broker 31
The Attorney 36
The Certified Public Accountant 38
The Bottom Line 41
Chapter 4 Getting the Money 43
Obtaining a Home Equity Loan 44
IRA Accounts 46
Cash Value of Life Insurance 47
Customized Creativity 47
The Use of Options 48
OPM 49
Ask Your Banker 49
Present Sacrifice for Future Benefits 50
The Bottom Line 52
Part Two The Big Six Formula 55
Chapter 5 Location: Planting Investment Roots 59
Evaluating Locations 60
Industrial Properties 68
Short-Term Gains and Declines 68
Long-Term Gains and Declines 69
The Bottom Line 70
Chapter 6 Building Quality and Design Efficiency: Ensuring the Long-Term Viability of Your Portfolio 73
Class A Buildings 75
Class B Buildings 76
Class C Buildings 76
Class B Apartment Buildings 77
Class B Retail Strip Store Centers 78
Class B Office Buildings 79
Industrial Properties 81
The Bottom Line 82
Chapter 7 Tenant Profile: The Right Fit 85
Factor No. 1: Rental Rate and Terms 86
Factor No. 2: Gross or Net Lease 87
Factor No. 3: Size of Units 87
Factor No. 4: Impact of a National Tenant 89
Factor No. 5: Right of First Refusal 90
Factor No. 6: Potential Condo Buyers 91
Factor No. 7: Parking Considerations 91
Factor No. 8: Undesirable Mix of Tenants 92
The Bottom Line 93
Chapter 8 Upside: Maximizing the Return on Your Holdings 95
Tenants Can Set the Price of a Building 97
Upside Strategies 98
The Bottom Line 107
Chapter 9 Financing: Choosing the Fiscal Formula That Matches Your Goals 109
Before You Begin: Your Credit Report 109
Financing Components and Dynamics 111
Appraisal 118
The Advantages of Dealing with Local Banks 118
Ideal Financing 121
Getting Your Loan Approved 122
Private Lenders 122
The Romance of Leverage 123
Infinity Return 125
All-Cash Buyers 126
Burn the Mortgage Quickly 127
Mortgage Brokers 127
Healthy versus Unhealthy Debt 127
The Bottom Line 128
Chapter 10 Price: Looking Beyond the Price Tag to See the Big Picture 129
The Price-Is-Too-High Syndrome 130
Things to Know 132
The Bottom Line 140
Chapter 11 Anatomy of a Big Six Deal 143
Adam's Manor 143
The Sellers 144
Listing the Property 145
The Buyer 147
Setting the Stage 148
The Buyers' Strategy 149
Sealing the Deal 152
Brokers Meet the Sellers 154
Now What? 161
The Bottom Line 162
Part Three Moving Forward 165
Chapter 12 Management and Leasing to Enhance Your Investment 167
Managing Apartment Buildings 170
Managing Small Retail Centers 175
Managing Small Bay Warehouses 179
Managing Office Buildings 183
The Bottom Line 188
Chapter 13 Condo Conversions: Big Money in Small Apartment Buildings 191
My Start in Condo Conversions 192
Criteria for Converting Small Buildings 195
Critiquing the Units 197
Announcing the Conversion 200
Announcing the Improvement Program 202
Handling the Unsold Units 203
Legal Requirements 204
Bradford Terrace: A Mini Case Study 205
The Bottom Line 211
Chapter 14 One Good Investment Is Worth a Lifetime of Labor 213
The Shift: by Jeffrey Cohen 215
I Came to New York: by Christine Marie 219
Love at First Sight: by Tony DeRosa 222
If I Never Made Another Deal: by Cliff Suchman 225
You Can Never Know Too Much: by Anthony Dilweg and Andy Roberts 228
I Made It in Buying: by Kenneth D. Rosen 231
The Bottom Line 235
Glossary 237
About the Author 247
Index 249
See More
KENNETH D. ROSEN, CCIM, is the founder of Kendar Realty, Inc. Since 1975, he has bought and sold $500 million in investment real estate. He is a two-term past president of the Miami Association of Realtors and the recipient of numerous awards, including Miami Realtor of the Year. He has been active as a volunteer Guardian Ad Litem for abused and neglected children and is a 20-year volunteer skipper for Shake-A-Leg Miami, a nonprofit sailing center serving children and adults with disabilities. He is a 32nd degree Mason and a Shriner.
See More