Textbook
Introduction to the Human Body, 11th Edition
ISBN: 978-1-119-39273-6
December 2017, ©2018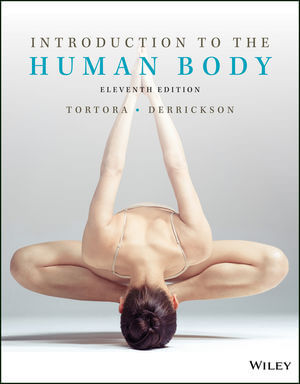 Introduction to the Human Body combines exceptional content and outstanding visual, auditory, and interactive presentations for a multimodal and comprehensive learning experience. This digital course gives students the ability to learn and explore anatomy and physiology both inside and outside of the classroom.
See More
1. Organization of the Human Body
2. Introductory Chemistry
3. Cells
4. Tissues
5. The Integumentary System
6. The Skeletal System
7. Joints
8. The Muscular System
9. Nervous Tissue
10. Central Nervous System, Spinal Nerves, and Cranial Nerves
11. Autonomic Nervous System
12. Somatic Senses and Special Sense
13. The Endocrine System
14. The Cardiovascular System: Blood
15. The Cardiovascular System: Heart
16. The Cardiovascular System: Blood Vessels and Circulation
17. The Lymphatic System and Immunity
18. The Respiratory System
19. The Digestive System
20. Nutrition and Metabolism
21. The Urinary System
22. Fluid, Electrolyte, and Acid-Base Balance
23. The Reproductive Systems
24. Development and Inheritance
See More
- Expanded and updated physiology coverage across the entire course.
- New Scanning Electron Microscope (SEM) images added to multiple sections.
- Significant updates to the art in the Cardiovascular System sections.
- WileyPLUS Media Updates include: 5 new 3-D Physiology Animations (now 15 total); new interactive graphics, which enhance viewer experience. Multi-part figures are now displayed as slideshows, which eliminates scrolling. Refreshed ORION diagnostics based on actual student usage; Human and Animal Dissection Videos are now available in the Key Resource Ribbon; Transcripts have been added for Hear This Illustration audio lectures.
See More
- Interactive Graphics: Make content visually accessible to students as they engage with print content. They are in place for multi-part figures, including multi-parts that zoom in on a given structure.
- Key Resources Ribbon: Puts the course's Anatomy and Physiology media at student and faculty's fingertips.
- Anatomy Resources include: Concept Lectures, Real Anatomy Cadaver Dissection, Muscles in Motion, Anatomy Drill and Practice; and Cat, Pig, Rat and Human dissection videos.
- Physiology Resources include: 3-D Physiology animations, the entire Interactions program (of overviews, animations, exercises & more) as well as PowerPhys – Physiological Lab Simulation software.
See More
Instructors Resources
ENHANCE YOUR COURSE
Contact your Wiley Representative
Find Your Rep

See More
See Less