Textbook
Understanding World Regional Geography, 2nd Edition
ISBN: 978-1-119-39390-0
November 2017, ©2018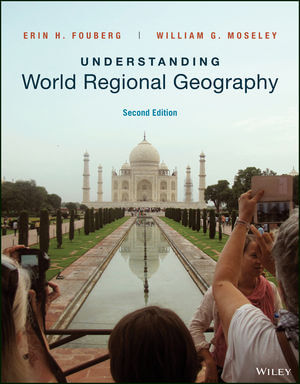 Understanding World Regional Geography (UWRG) is a course designed to teach students to think and apply geographic concepts long after the course is over. UWRG draws from best practices in geography education and research in student learning to help students deepen their understanding of the world. Features found in each section of the course help students learn to read cultural and physical landscapes, ask geographic questions, apply geographic concepts, and make connections. UWRG is the first introductory course to integrate ESRI ArcGIS Online thematic maps, enabling students to engage with course materials, see patterns, and answer geographic questions. UWRG integrates 25 threshold concepts, teaches students how geographers apply these concepts, and then asks students to apply these key geographic concepts themselves. Understanding World Regional Geography helps students begin to grasp the complexities of the world and gives them the knowledge and thinking skills necessary to grow in their understanding of the world over their lifetimes.
See More
1. Introduction to World Regional Geography
2. Global Connections
3. Geography of Development
4. Africa South of the Sahara
5. Southwest Asia and North Africa
6. South Asia
7. Southeast Asi
8. East Asia
9. Europe
10. North and Central Eurasia
11. North America
12. South America, Mesoamerica, and the Caribbean
13. Pacific
14. Geography, World Regions and World Cities
See More
- WileyPLUS platform with Orion Adaptive Practice.
- Inclusion of interactive graphics.
- Revisions and updates to 6 included thematic base maps, focusing on the religion map.
- Expanded map questions and activities.
See More
- New & Revised Esri ArcGIS Online Thematic Maps: These integrated maps enable students to engage with the course materials, see patterns, and answer geographic questions
- Orion Adaptive Practice: Every student has a different starting point, and adaptive practice provides endless opportunities for practice to effectively prepare for class or quizzes and exams. Active retrieval of information with practice questions is proven to improve retention of information better than re-reading or reviewing the material, and students who use adaptive practice to prepare for exams do significantly better than those who do not. Students begin with a quick, chapter-level diagnostic to determine their initial level of understanding, and they can use the dashboard and quick reports to see what topics they know and don't know.
- Expanded Assignable Mapping Questions and Activities.
See More
Instructors Resources
Contact your Wiley Representative
Find Your Rep

See More
See Less
Students Resources
See More
See Less