Textbook
En tu medio: Intermediate Spanish, Enhanced eText, 1st Edition
ISBN: 978-1-119-39720-5
432 pages
March 2018, ©2018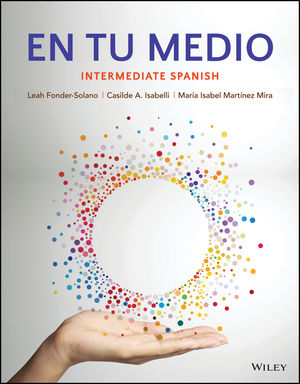 En tu medio is a new program for intermediate Spanish that includes interactive and multimedia content, online tools and resources, and authentic short films to provide a contemporary and appealing learning experience. The course is designed to complement any course format, whether it be face-to-face, a hybrid/blended learning environment, or an online class. The course uses a task-based, student-friendly approach to build from the introductory level toward a higher-level proficiency. Each of 10 sequential course sections offers meaningful activities designed to motivate students and positively reinforce successful communication through pair and group interaction, negotiation of meaning, and the completion of real-world tasks within an engaging thematic and cultural context.
See More
Así somos
Aventuras para el tiempo libre
Los espectáculos y las artes
Tu vida profesional
¡Conéct@te!
Tu salud física y mental
En tu medio
Tu mundo político y económico
La inmigración: fusión de culturas
Celebraciones y días festivos
See More
Whole Texts vs. Disjointed Sentences: En tu medio presents both vocabulary and grammar with contextualizing paragraphs, blogs, ads, realia, or other whole texts which model and clarify usage.
Input Processing: This proven model makes new concepts accessible to students by allowing them to notice and process content before they are asked to use or produce discourse with new information.
Task-Based Activities: En tu medio offers a broad array of theoretically grounded, class-tested, interactive, and engaging activities that develop all language skills (listening, speaking, reading, writing, and intercultural competence) while completing meaningful tasks.
ACTFL National Standards: True to the "21st Century Learner World Readiness Standards" (cultures, connections, communication, comparisons, communities), each chapter's thematic, regional, and cultural focus is integrated throughout every section so that students explore the cultural products, practices, and perspectives of different regions—including their own communities—from multiple viewpoints even while learning vocabulary and practicing grammar.
ACTFL Oral Proficiency Guidelines: En tu medio also aligns with the ACTFL Oral Proficiency Guidelines, an objective measure of what students can actually do with the language at this level.
Fully Integrated Thematic and Cultural Context: En tu medio integrates cultural information and authentic materials specific to the target region throughout the chapter so that students explore language in context, even while learning vocabulary or grammar.
Short Films and Cultural Videos: En tu medio also includes five critically recognized short films produced for Spanish-speaking audiences.
Grouping and Recycling of Grammatical Concepts: En tu medio groups related concepts together in each chapter to provide an overview and emphasize usage.
See More