A Coach's Guide to Developing Exemplary Leaders: Making the Most of The Leadership Challenge and the Leadership Practices Inventory (LPI), 2nd Edition
ISBN: 978-1-119-39753-3
256 pages
August 2017, Pfeiffer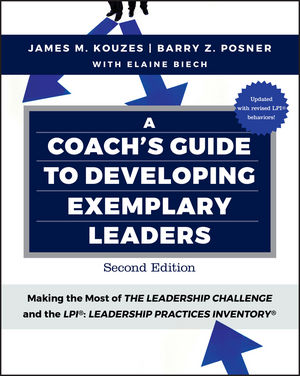 An evidence-based approach to real-world leadership development
A Coach's Guide to Developing Exemplary Leaders presents leadership not as an inherent talent, but as a set of skills to be learned. Backed by over 30 years of original research and data from over four million individuals, this book offers a framework for leadership development in the modern business environment, and a set of best practices for training the leaders of tomorrow. The basic curriculum centers around The Five Practices of Exemplary Leadership®: Model the Way, Inspire a Shared Vision, Challenge the Process, Enable Others to Act, and Encourage the Heart. As fundamental elements of great leadership at any level, in any industry, these tenets establish a learnable, measureable, teachable set of behaviors that form the basis of evidence-based leadership development. This book shows you how to use the Five Practices and related tools to coach promising talent into leadership roles. Success stories show how these practices have been implemented in real-world situations, and worksheets and checklists help you easily integrate the Five Practices into your existing coaching regimen.
Highly practical and straightforward, this action-focused guide helps you shape the future of leadership. Teach people skills that have been proven effective again and again, as you show them how to:
Be the example that sets the tone at the top
Inspire high performance, creativity, and innovation
Challenge people to push their comfort zone, and enable them to succeed
Provide support, encouragement, and guidance around obstacles
As Baby Boomers retire in record numbers, the need for real, effective leadership is growing greater than ever; at the same time, there has never been a more disparate set of opinions about what "leadership" actually means. A Coach's Guide to Developing Exemplary Leaders provides an evidence-based model to help you develop leaders with real, quantifiable, tangible skills.
See More
Part I: Coaching to Improve The Five Practices 1
Chapter 1 Accept The Leadership Challenge 3
Chapter 2 Coaching to Model the Way 15
Chapter 3 Coaching to Inspire a Shared Vision 37
Chapter 4 Coaching to Challenge the Process 57
Chapter 5 Coaching to Enable Others to Act 79
Chapter 6 Coaching to Encourage the Heart 105
Part II: Improve Your Coaching Competence 129
Chapter 7 Coaching for Success 131
Chapter 8 Coaching Competencies 149
Chapter 9 The Coaching Process 187
Chapter 10 Coaching When Things Go Awry 207
Chapter 11 Coach Yourself to Mastery 215
Reading List for Coaches 225
Index 229
About the Authors 243
See More
JAMES M. KOUZES and BARRY Z. POSNER are the bestselling coauthors of The Leadership Challenge, The Truth About Leadership, A Leader's Legacy, Credibility, Encouraging the Heart, and The Leadership Challenge Workbook, and over a dozen other books and workbooks on leadership. They also developed the highly-acclaimed LPI®: Leadership Practices Inventory®, a 360-degree assessment tool based on The Five Practices. They are among the most sought-after scholars and educators on the subjects of leadership and leadership development.
ELAINE BIECH is president and managing principal of ebb associates, inc, a strategic implementation, leadership development, and experiential learning consulting firm. She is also the author of over four dozen books and articles including Training for Dummies. Her website can be found at www.ebbweb.com.
Discover more at www.leadershipchallenge.com
See More