E-book
Ageing, Dementia and the Social Mind
ISBN: 978-1-119-39801-1
168 pages
July 2017, Wiley-Blackwell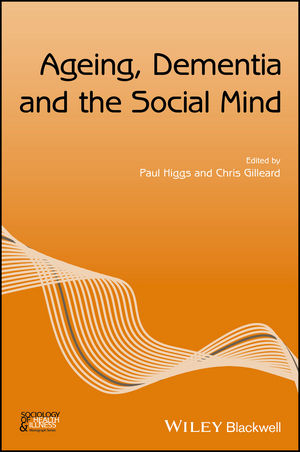 A groundbreaking exploration of the sociology of dementia — with contributions from distinguished international scholars and practitioners.
Organised around the four themes of personhood, care, social representations and social differentiation
Provides a critical look at dementia and demonstrates how sociology and other disciplines can help us understand its social context as well as the challenges it poses
Contributing authors explore the social terrain, responding in part, to Paul Higgs' and Chris Gilleard's highly influential work on ageing
Breaks new ground in giving specific attention to the social and cultural dimensions of responses to dementia
See More
Notes on contributors vii
1 Ageing, dementia and the social mind: past, present and future perspectives 1
Paul Higgs and Chris Gilleard
2 Relational citizenship: supporting embodied selfhood and relationality in dementia care 7
Pia Kontos, Karen-Lee Miller and Alexis P. Kontos
3 Shifting dementia discourses from deficit to active citizenship 24
Linda Birt, Fiona Poland, Emese Csipke and Georgina Charlesworth
4 Narrative collisions, sociocultural pressures and dementia: the relational basis of personhood reconsidered 37
Edward Tolhurst, Bernhard Weicht and Paul Kingston
5 Power, empowerment, and person-centred care: using ethnography to examine the everyday practice of unregistered dementia care staff 52
Kezia Scales, Simon Bailey, Joanne Middleton and Justine Schneider
6 Institutionalising senile dementia in 19th-century Britain 69
Emily Stella Andrews
7 Dichotomising dementia: is there another way? 83
Patricia Mc Parland, Fiona Kelly and Anthea Innes
8 When walking becomes wandering: representing the fear of the fourth age 95
Katherine Brittain, Cathrine Degnen, Grant Gibson, Claire Dickinson and Louise Robinson
9 Re-imagining dementia in the fourth age: the ironic fictions of Alice Munro 110
Marlene Goldman
10 Social class, dementia and the fourth age 128
Ian Rees Jones
11 Precarity in late life: rethinking dementia as a 'frailed' old age 142
Amanda Grenier, Liz Lloyd and Chris Phillipson
Index 155
See More
Paul Higgs, PhD is Professor of the Sociology of Ageing at the UCL Faculty of Brain Sciences, UK. He holds Fellowships from the Academy of Social Sciences and the Gerontological Society of America.
Chris Gilleard, PhD is a Fellow of the Academy of Social Sciences and a Visiting Research Fellow at the Division of Psychiatry, Faculty of Brain Sciences, University College London, UK.
See More
More in this series