E-book
Culture Hacker: Reprogramming Your Employee Experience to Improve Customer Service, Retention, and Performance
ISBN: 978-1-119-40577-1
224 pages
April 2017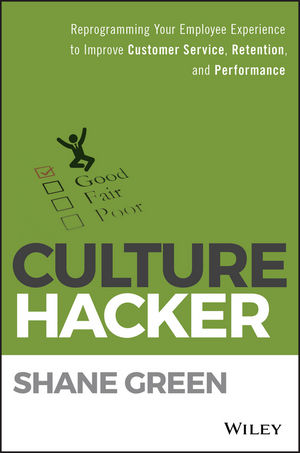 HACK YOUR WORKPLACE CULTURE FOR GREATER PROFITS AND PRODUCTIVITY
"I LOVE THIS BOOK!"
—CHESTER ELTON, New York Times bestselling author of All In and What Motivates Me
"When companies focus on culture, the positive effects ripple outward, benefiting not just employees but customers and profits. Read this smart, engaging book if you want a practical guide to getting those results for your organization."
—MARSHALL GOLDSMITH, executive coach and New York Times bestselling author
"Most books on customer service and experience ask leaders to focus on the customer first. Shane turns this notion on its head and makes a compelling case why leaders need to make 'satisfied employees' the priority."
—LISA BODELL, CEO of Futurethink and author of Why Simple Wins
"This is a must read for anyone in a customer service-centric industry. Shane explains the path to creating both satisfied customers and satisfied employees."
—CHIP CONLEY, New York Times bestselling author and hospitality entrepreneur
The question is not, "does your company have a culture?" The question is, "does your company have a culture that fosters outstanding customer experiences, limits employee turnover, and ensures high performance?"
Every executive and manager has a responsibility to positively influence their workplace culture. Culture Hacker gives you the tools and insights to do it with simplicity and style.
Culture Hacker explains:
Twelve high-impact hacks to improve employee experience and performance
How to delight and retain a multi-generational workforce
The factors determining whether or not your employees deliver outstanding customer service
See More
Introduction: The Journey from Customer Experience to Employee Experience xi
1 Culture: More Than Just an HR Thing 1
2 Values: Not Some Philosophical BS 13
3 Selection: The Right Fit over a Warm Body 25
4 Orientation and Onboarding: Your Sink-or-Swim Strategy Is a Terrible Waste of Talent 37
5 Performance Management: How We Fail to Maximize Our Employees' Abilities and Talents 55
6 Coaching: Giving Feedback, the Most Misunderstood and Poorly Executed Leadership Task 73
7 Strategy, Scores, and Plans: The Real Reason Your People Are Not Engaged 87
8 Recognition: It's Time to Stop the Meaningless and Mundane Awards Process 101
9 Tough Conversations and Decisions: Why We Have People Who Would Be Better Off as Customers than Employees 113
10 Career Development: It's at the Heart of Long-Term Employee Commitment, Yet No One Is Doing Anything about It 127
11 Communication: Why One Size or One Way Doesn't Fit All 139
12 Product, Place, Process, and Perks: The Other Four P's That Define the Employee Experience 161
13 Leadership: Why We Have So Many Managers but So Few Leaders 173
Afterword: Change—It's Not Just Something Everyone Else Does 183
Acknowledgments 189
Index 191
See More
SHANE GREEN is a world-renowned keynote speaker, author, television personality, and consultant to global Fortune 500 leaders on customer experience and organizational culture. Shane draws on his foundation at The Ritz-Carlton Hotel Company and his work in multiple industries, to help clients transform customer experiences by improving employee habits and mindsets. As president and founder of SGEi, Shane leads a team of professionals who inspire iconic brands, like the NBA, Westfield, Foot Locker, Net Jets Inc., W Hotels, and BMW to reprogram their employee experiences—in order to create loyal customers and raving fans.
See More