Meetings: Ethnographies of Organizational Process, Bureaucracy and Assembly
ISBN: 978-1-119-40589-4
208 pages
May 2017, Wiley-Blackwell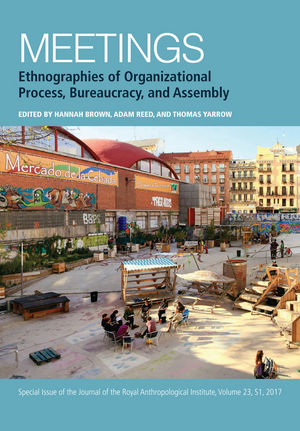 This book is an exploration of how this remarkably efficient and familiar form of gathering operates, in different times and places, and how it comes to be recognised by those who experience or deploy it.
Throws the spotlight on the epistemological and ontological basis of coming together through formal meetings of different kinds
Demonstrates how meetings - socially and institutionally prescribed spaces for coming together - are important and ubiquitous organisational forms in various political, religious and economic settings
Shows how meetings feature prominently in classic anthropological accounts, and in more contemporary ethnography, particularly in relation to studies of documents, organizations, policy, development, politics, and science and technology
See More
Introduction: Towards an Ethnography of Meeting (Hannah Brown, Adam Reed & Thomas Yarrow)
1. Contradiction in Contemporary Political Life (Simone Abram)
2. Demonstrating Development: Meetings as Management in Kenya's Health Sector (Hannah Brown & Maia Green)
3. The Receding Horizon of Informality in WTO Meetings (Nicholas Lamp)
4. The Meeting as Subjunctive Form (Catherine Alexander)
5. Where Knowledge Meets: Heritage Expertise at the Intersection of People, Perspective and Place (Thomas Yarrow)
6. Political Exhaustion and the Experiment of Street (Alberto Corsín Jiménez and Adolfo Estalella)
7. Minutes, Meetings and 'Modes of Existence': Navigating the Bureaucratic process of urban regeneration in East London (Gillian Evans)
8. Ideological Twinning: Socialist Aesthetics and Political Meetings in Maputo, Mozambique (Morten Nielsen)
9. Ethics in Rehearsal (Bernard Keenan & Alain Pottage)
10. An Office of Ethics: Meetings, Roles and Moral Enthusiasm in Animal Protection (Adam Reed)
11. Outputs (Annelise Riles)
Afterword (Marilyn Strathern)
Index
See More
Hannah Brown is Lecturer in Anthropology at Durham University. Her research explores how people care for one another through interpersonal relations and institutions, and how relations with animals and technologies shape possibilities for wellbeing. She is the co-editor of Volunteer Economies: The Politics and Ethics of Voluntry Labour in Africa.
Adam Reed is a Senior Lecturer in the Department of Social Anthropology at the University of St Andrews. His work focuses on colonial and postcolonial regimes of punishment, legal process, the aesthetics of documents, urban imagination, cultures of fiction reading and literary subjectivities, animal welfare and ethical campaigning. He conducts research in Papua New Guinea and Britain, and is the author of Papua New Guinea's Last Place: Experiences of Constraint in a Postcolonial Prison and Literature and Agency in English Fiction Reading: a Study of The Henry Williamson Society.
Thomas Yarrow is a senior lecturer in social anthropology at Durham University. His work mostly focuses on expertise and institutional knowledge, particularly through ethnographic engagements with architects, heritage professionals, archaeologists and NGO workers. He is the author of Development beyond Politics: aid, activism and NGOs in Ghana and the co-editor of volumes on Archaeology and Anthropology, Detachment and Differentiating Development.
See More
More in this series