E-book
Artificial Intelligence for Marketing: Practical Applications
ISBN: 978-1-119-40636-5
368 pages
August 2017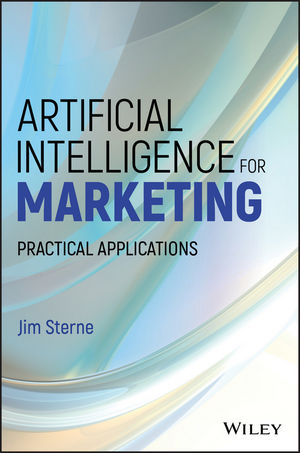 A straightforward, non-technical guide to the next major marketing tool
Artificial Intelligence for Marketing presents a tightly-focused introduction to machine learning, written specifically for marketing professionals. This book will not teach you to be a data scientist—but it does explain how Artificial Intelligence and Machine Learning will revolutionize your company's marketing strategy, and teach you how to use it most effectively. Data and analytics have become table stakes in modern marketing, but the field is ever-evolving with data scientists continually developing new algorithms—where does that leave you? How can marketers use the latest data science developments to their advantage? This book walks you through the "need-to-know" aspects of Artificial Intelligence, including natural language processing, speech recognition, and the power of Machine Learning to show you how to make the most of this technology in a practical, tactical way.
Simple illustrations clarify complex concepts, and case studies show how real-world companies are taking the next leap forward. Straightforward, pragmatic, and with no math required, this book will help you:
Speak intelligently about Artificial Intelligence and its advantages in marketing
Understand how marketers without a Data Science degree can make use of machine learning technology
Collaborate with data scientists as a subject matter expert to help develop focused-use applications
Help your company gain a competitive advantage by leveraging leading-edge technology in marketing
Marketing and data science are two fast-moving, turbulent spheres that often intersect; that intersection is where marketing professionals pick up the tools and methods to move their company forward. Artificial Intelligence and Machine Learning provide a data-driven basis for more robust and intensely-targeted marketing strategies—and companies that effectively utilize these latest tools will reap the benefit in the marketplace. Artificial Intelligence for Marketing provides a nontechnical crash course to help you stay ahead of the curve.
See More
Foreword by Tom Davenport xiii
Preface xvii
Acknowledgments xix
Chapter 1 Welcome to the Future 1
Welcome to Autonomic Marketing 3
Welcome to Artificial Intelligence for Marketers 3
Whom Is This Book For? 5
The Bright, Bright Future 6
Is AI So Great if It's So Expensive? 7
What's All This AI Then? 9
The AI Umbrella 9
The Machine that Learns 10
Are We There Yet? 14
AI-pocalypse 15
Machine Learning's Biggest Roadblock 23
Machine Learning's Greatest Asset 24
Are We Really Calculable? 56
Chapter 2 Introduction to Machine Learning 59
Three Reasons Data Scientists Should Read This Chapter 59
Every Reason Marketing Professionals Should Read
This Chapter 60
We Think We're So Smart 60
Define Your Terms 61
All Models Are Wrong 62
Useful Models 64
Too Much to Think About 66
Machines Are Big Babies 68
Where Machines Shine 69
Strong versus Weak AI 71
The Right Tool for the Right Job 72
Make Up Your Mind 88
One Algorithm to Rule Them All? 89
Accepting Randomness 92
Which Tech Is Best? 94
For the More Statistically Minded 94
What Did We Learn? 101
Chapter 3 Solving the Marketing Problem 103
One-to-One Marketing 105
One-to-Many Advertising 107
The Four Ps 108
What Keeps a Marketing Professional Awake? 109
The Customer Journey 111
We Will Never Really Know 111
How Do I Connect? Let Me Count the Ways 114
Why Do I Connect? Branding 117
Marketing Mix Modeling 119
Econometrics 121
Customer Lifetime Value 121
One-to-One Marketing—The Meme 122
Seat-of-the-Pants Marketing 123
Marketing in a Nutshell 124
What Seems to Be the Problem? 126
Chapter 4 Using AI to Get Their Attention 128
Market Research: Whom Are We After? 128
Marketplace Segmentation 131
Raising Awareness 141
Social Media Engagement 155
In Real Life 158
The B2B World 158
Chapter 5 Using AI to Persuade 165
The In-Store Experience 168
On the Phone 178
The Onsite Experience—Web Analytics 179
Merchandising 186
Closing the Deal 188
Back to the Beginning: Attribution 193
Chapter 6 Using AI for Retention 200
Growing Customer Expectations 200
Retention and Churn 202
Many Unhappy Returns 204
Customer Sentiment 208
Customer Service 209
Predictive Customer Service 216
Chapter 7 The AI Marketing Platform 218
Supplemental AI 218
Marketing Tools from Scratch 221
A Word about Watson 224
Building Your Own 230
Chapter 8 Where Machines Fail 232
A Hammer Is Not a Carpenter 232
Machine Mistakes 235
Human Mistakes 241
The Ethics of AI 247
Solution? 258
What Machines Haven't Learned Yet 260
Chapter 9 Your Strategic Role in Onboarding AI 262
Getting Started, Looking Forward 264
AI to Leverage Humans 272
Collaboration at Work 274
Your Role as Manager 276
Know Your Place 282
AI for Best Practices 286
Chapter 10 Mentoring the Machine 289
How to Train a Dragon 290
What Problem Are You Trying to Solve? 291
What Makes a Good Hypothesis? 294
The Human Advantage 297
Chapter 11 What Tomorrow May Bring 305
The Path to the Future 307
Machine, Train Thyself 308
Intellectual Capacity as a Service 308
Data as a Competitive Advantage 310
How Far Will Machines Go? 316
Your Bot Is Your Brand 319
My AI Will Call Your AI 321
Computing Tomorrow 325
About the Author 327
Index 329
See More
JIM STERNE is founder of the eMetrics Summit and cofounder and Board Chair of the Digital Analytics Association. An internationally known speaker and consultant, he is the author of numerous books, including 101 Things You Should Know About Marketing Optimization Analysis, Social Media Metrics, and The Devil's Data Dictionary.
See More
More in this series