Millionaire Expat: How To Build Wealth Living Overseas, 2nd Edition
ISBN: 978-1-119-41189-5
416 pages
January 2018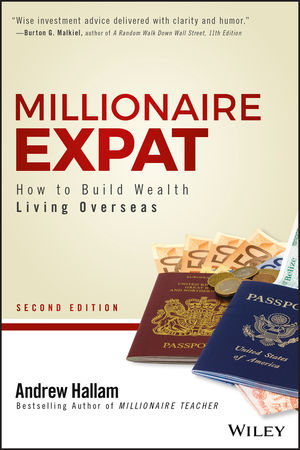 Build your strongest-ever portfolio from anywhere in the world
Millionaire Expat is a handbook for smart investing, saving for retirement, and building wealth while overseas. As a follow-up to The Global Expatriate's Guide to Investing, this book provides savvy investment advice for everyone—no matter where you're from—to help you achieve your financial goals. Whether you're looking for safety, strong growth, or a mix of both, index funds are the answer. Low-risk and reliable, these are the investments you won't hear about from most advisors. Most advisors would rather earn whopping commissions than follow sound financial principles, but Warren Buffett and Nobel Prize winners agree that index funds are the best way to achieve market success—so who are you ready to trust with your financial future?
If you want a better advisor, this book will show you how to find one; if you'd rather go it alone, this book gives you index fund strategies to help you invest in the best products for you.
Learn how to invest for both safety and strong returns
Discover just how much retirement will actually cost, and how much you should be saving every month
Find out where to find a trustworthy advisor—or go it alone
Take advantage of your offshore status to invest successfully and profitably
Author Andrew Hallam was a high school teacher who built a million-dollar portfolio—on a teacher's salary. He knows how everyday people can achieve success in the market. In Millionaire Expat, he tailors his best advice to the unique needs of those living overseas to give you the targeted, real-world guidance you need.
See More
Introduction
Chapter 1 - Grow Big Profits Without Any Effort
Chapter 2 - Don't Start a Fight with an Escalator
Chapter 3- Where Are the Customers' Yachts?
Chapter 4: Don't Let A Fool Or A Psychopath Wreck Your Future
Chapter 5: Self-Appointed Gurus and Neanderthal Brains
Chapter 6: An Employer's Greatest Challenge
Chapter 7: Couch Potato Investing
Chapter 8: Capable Investment Advisors with a Conscience
Chapter 9: Choosing Your Offshore Brokerage—For Non-Americans
Chapter 10: The 29 Questions Do-It-Yourself Investors Ask
Chapter 11: Portfolio Models for American Expats
Chapter 12: Portfolio Models for Canadian Expats
Chapter 13: Portfolio Models for British Expats
Chapter 14: Portfolio Models for Australian Expats
Chapter 15: Portfolio Models for New Zealand Expats
Chapter 16: Portfolio Models for South African and South American Expats
Chapter 17: Portfolio Models for Irish And European Expats
Chapter 18: Portfolio Models for Asian Expats
Chapter 19: Setting Your Bull's-Eye
Chapter 20: How Much Money Should You Be Saving?
Conclusion
Index
See More
ANDREW HALLAM is a personal finance columnist and former international high school teacher. He built a million-dollar investment portfolio on a teacher's salary. He is the author of the bestselling book, Millionaire Teacher, and writes a regular finance column for Canada's national paper, The Globe and Mail. A former columnist for Canadian Business magazine, he also writes a weekly column for the U.S.-based financial services company, Assetbuilder. Andrew is a regular on TV and radio, and his website, andrewhallam.com, has become a beacon for expatriate investors around the world.
See More