The Principal: Three Keys to Maximizing Impact
ISBN: 978-1-119-42235-8
192 pages
February 2018, Jossey-Bass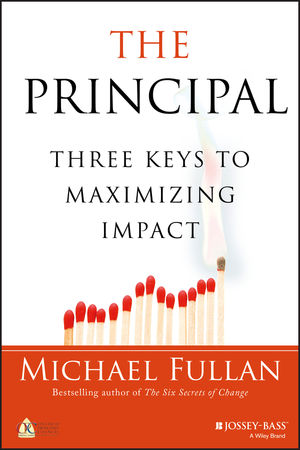 The author of Six Secrets of Change describes how and why the principal's role must change to maximize student achievement


*** FREE Professional Development Guide Included ***
Principals are often called the second most crucial in-school influencers (after teachers) of student learning. But what should the principal do in order to maximize student achievement? One of the best-known leadership authors in education, Fullan explains why the answer lies neither in micro-managing instruction nor in autonomous entrepreneurialism. He shows systematically how the principal's role should change, demonstrating how it can be done in short order, at scale.
Reveals the three key roles that administrators must play in today's schools
Explains how to choose the right versus wrong drivers of school success
Filled with "action items" to help implement Fullan's program effectively
Includes strategies that have been successfully field-tested in schools across the United States and Canada
See More
Preface ix
Acknowledgments xi
About the Author xv
CHAPTER ONE: Outmoded 1
Gasp! 6
Leading Learning 8
Maximizing Impact 9
This Watershed Moment 10
The Chapters That Follow 13
Still Worth a Struggle 14
CHAPTER TWO: Vices and Virtues 17
Panic Time? 21
Four Wrong Choices for Driving Policy 22
Too Broad, Too Narrow: The Transformative Versus Instructional Leader 38
Principal Autonomy and Micromanaging:
Other Roadside Attractions 42
Time to Retune 46
CHAPTER THREE: The First Key—Leading Learning 51
What Key Research Tells Us 56
Professional Capital—a Framework for Leading Learning 67
Foster and Integrate 86
The More Powerful Way 88
CHAPTER FOUR: The Second Key—Being a District and System Player 93
Looking Out to Improve Within 98
Intradistrict Development 100
Beyond the District 107
Not You Alone 115
CHAPTER FIVE: The Third Key—Becoming a Change Agent 119
Change Agency 124
Distorted Mirrors 135
CHAPTER SIX: The Future Is Now 141
The Unplanned Digital Revolution 145
Planned Change: Common Core State Standards 154
Time to Change Careers? Or to Change Gears? 157
A Final Word 160
References 161
Index 169
See More
Michael Fullan, Order of Canada, is a professor emeritus at the Ontario Institute for Studies in Education, University of Toronto. He consults with leaders of education systems worldwide and is the award-winning author of more than thirty books, including Leading in a Culture of Change, The Six Secrets of Change, and Change Leader. To learn more, visit www.michaelfullan.ca.
See More