Art and Religious Reform in Early Modern Europe
ISBN: 978-1-119-42247-1
232 pages
December 2017, Wiley-Blackwell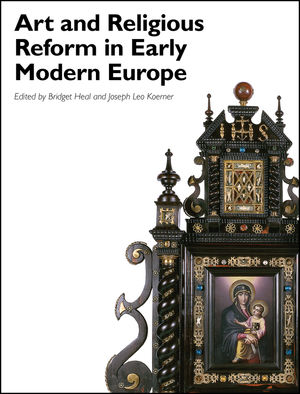 The religious turmoil of the sixteenth century constituted a turning point in the history of Western Christian art. The essays presented in this volume investigate the ways in which both Protestant and Catholic reform stimulated the production of religious images, drawing on examples from across Europe and beyond.
Eight essays by leading scholars in the field
Brings art historians and historians into productive dialogue
Broad chronology, from the sixteenth to the eighteenth century
Broad geographical coverage
Richly illustrated
See More
Notes on Contributors
Introduction: Art and Religious Reform in Early Modern Europe (Bridget Heal)
1. Karlstadt's Wagen: The First Visual Propaganda for the Reformation (Lyndal Roper and Jennifer Spinks)
2. 'Between these Two Kingdoms': Exile, Election, and Godly Law in Sebald Beham's Moses and Aaron (Mitchell B. Merback)
3. The Unassembled Grammar of the Drawing in the Era of Reform (Shira Brisman)
4. The Family at Table: Protestant Identity, Self-Representation and the Limits of the Visual in Seventeenth-Century Zurich (Andrew Morrall)
5. Lutheran Baroque: The Afterlife of a Reformation Altarpiece (Bridget Heal)
6. Images (Not) Made By Chance (Amy Knight Powell)
7. The Art of Solitude: Environments of Prayer at the Bavarian Court of Wilhelm V (Christine Göttler)
8. The Reliquary Reformed (Mia M. Mochizuki)
Afterword (Joseph Leo Koerner)
Index
See More
Bridget Heal is director of the Reformation Studies Institute at the University of St Andrews. She is the author of The Cult of the Virgin Mary in Early Modern Germany: Protestant and Catholic Piety, 1500–1648 (Cambridge University Press, 2007), and of A Magnificent Faith: Art and Identity in Lutheran Germany (Oxford University Press, 2017). She has published extensively on various aspects of Lutheran visual culture during the early modern period, and currently co-edits the journal German History.
Joseph Leo Koerner is the Thomas Professor of History of Art and Architecture and a Senior Fellow of the Society of Fellows, Harvard University. He was co-curator of the 2002 exhibition Iconoclash: Beyond the Image Wars (ZKM, Karlsruhe). His books include The Reformation of the Image (University of Chicago Press, 2004) and Bosch and Bruegel: From Enemy Painting to Everyday Life (Princeton University Press, 2016).
See More
More in this series