A Portrait of Influence: Life and Letters of Arthur Onslow, the Great Speaker
ISBN: 978-1-119-42493-2
336 pages
November 2017, Wiley-Blackwell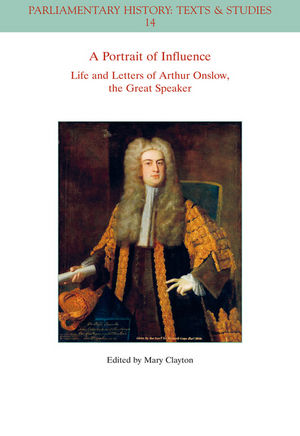 The first ever collection of the letters of Arthur Onslow (1691-1768), who was the Speaker of the House of Commons for an unsurpassed 33 years and also known as the Great Speaker.
Provides an insight into many interesting aspects of 18th century life as he served during the entire reign of George II, and brought about significant changes to the role of Speaker
Illustrates his work as a JP and as an MP, but also his philosophical, literary and antiquarian interests, and his pivotal role in the formation of the British Museum
Highlights his friendship with one of the leading politician of his time, the Duke of Newcastle, and his influence on the political stability of the 1740s and 50s
See More
Acknowledgments
Permissions
Editorial Note
Abbreviations
List of Correspondents
Introduction
Letters of Arthur Onslow, 1691–1768
Bibliography
Index
See More
Mary Clayton completed her MPhil on parliamentary elections in Haslemere, 1715-1780 in 1993. She worked at The National Archives on the Equity project, cataloguing Chancery cases, before becoming a researcher for the Clergy of the Church of England Database, CCEd. She was the London based researcher for the Old Bailey Online, and then worked on the London Lives project, before returning as a senior research officer to CCEd. As an honorary fellow of the University of Durham, she is currently the first point of contact for those wishing to communicate with the Clergy database.
See More
More in this series