PHR / SPHR Professional in Human Resources Certification Deluxe Study Guide, 2nd Edition
ISBN: 978-1-119-42673-8
656 pages
April 2018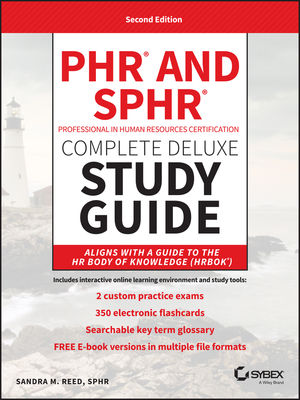 Updated for the 2017 HRBoK!
PHR / SPHR Professional in Human Resources Certification Deluxe Study Guide, Second Edition, is the ideal resource for HR professionals seeking to validate their skills and knowledge acquired through years of practical experience or a relative newcomer to the HR field looking to strengthen their resume.
The updated edition of the top-selling SPHR/PHR study guide was developed to help HR professionals prepare for these challenging exams, and includes additional study tools designed to reinforce understanding of key functional areas. Key topics include:
* Business Management and Strategy
* Workforce Planning and Employment
* Human Resource Development
* Compensation and Benefits
* Employee and Labor Relations
* Risk Management
Readers will have access to the interactive online learning environment and test bank, including an Assessment test, chapter tests, practice exams, electronic flashcards, and glossary of key terms. NEW bonus materials include study checklists and worksheets to supplement your exam preparation, and eBooks in different formats to read on multiple devices.
See More