PHR / SPHR Professional in Human Resources Certification Practice Tests
ISBN: 978-1-119-42680-6
384 pages
April 2018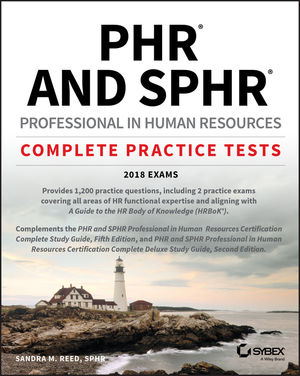 NEW Practice Tests for the 2017 Updates!
PHR / SPHR Professional in Human Resources Certification Practice Tests is the ideal complement to the PHR / SPHR Study Guide and Deluxe Study Guide. All of these self-study guides are intended for HR professionals seeking to validate their skills and knowledge acquired through years of practical experience, or for relative newcomers to the HR field looking to strengthen their resume.
This NEW Practice Tests was developed to help certification candidates prepare for these challenging exams, especially for those needing more practice to review or refresh their knowledge right before taking the exams. The book aligns with the PHR and SPHR EXAM CONTENT OUTLINE, which details the responsibilities of and knowledge needed by today's HR professionals. Practice Tests is designed to reinforce understanding of key functional areas:

* Business Management and Strategy
* Workforce Planning and Employment
* Human Resource Development
* Compensation and Benefits
* Employee and Labor Relations
* Risk Management
Readers will have access to the interactive online learning environment and test bank, including full-length tests and practice exams. 1200 practice questions total!
See More