Book Yourself Solid: The Fastest, Easiest, and Most Reliable System for Getting More Clients Than You Can Handle Even if You Hate Marketing and Selling, 3rd Edition
ISBN: 978-1-119-43122-0
336 pages
October 2017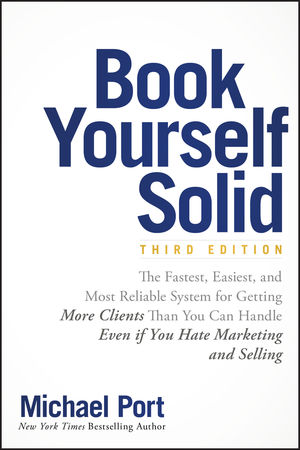 Kick off the cycle of success with serious self-promotion that works
Book Yourself Solid is a handbook for self-promotion that translates into results. We tend to think of "busy" as the equivalent of "successful"—but that's not always the case. The key lies in what you're busy doing. Success means spending your time doing work that gets you closer to your goals, and the critical driving force behind that success is self-promotion. This book shows you how to promote more than just your skills—you need to sell your reputation, your service, your very self. It starts with laying a foundation so potential clients know you can give them what they want and need. How do people see you, and how does that diverge from what you would like them to think? Once you know where you are, you can map out a plan for getting where you need to be, and this book shows you how to build the reputation you need to be the go-to person in your field—and keep the business coming in long-term.
Book Yourself Solid has been one of the most popular marketing books in the world for service-based businesses since its initial release in 2006. This new third edition includes updated and expanded strategies, techniques, and skills to help you get more clients and increase your take-home profits.
Build a solid foundation for a stellar public image
Enhance your reputation for trust and credibility
Perfect your pitch and pricing to attract higher-caliber clients
Adopt the six core strategies that will keep you booked solid
Spending just a small amount of time on self-promotion is an investment. You build a reputation that attracts high-quality clients, which boosts your profits, your track record, and your reputation, which in turn attracts even more high-quality clients. Book Yourself Solid shows you how to kick off this cycle of success, and maintain it for the long term.
See More
Acknowledgments
Author's Note
Preface
MODULE ONE Your Foundation
Chapter 1 The Red Velvet Rope Policy
Chapter 2 Why People Buy What You're Selling
Chapter 3 Develop a Personal Brand
Chapter 4 How to Talk About What You Do
MODULE TWO Building Trust and Credibility
Chapter 5 Becoming a Likable Expert in Your Field
Chapter 6 The Book Yourself Solid Sales Cycle Process
Chapter 7 The Book Yourself Solid Keep-in-Touch Strategy
Chapter 8 The Power of Information Products
MODULE THREE Simple Selling and Perfect Pricing
Chapter 9 Perfect Pricing
Chapter 10 Super Simple Selling
MODULE FOUR The Book Yourself Solid Six Core Self-Promotion Strategies
Chapter 11 The Book Yourself Solid Networking Strategy
Chapter 12 The Book Yourself Solid Direct Outreach Strategy
Chapter 13 The Book Yourself Solid Referral Strategy
Chapter 14 The Book Yourself Solid Speaking Strategy
Chapter 15 The Book Yourself Solid Writing Strategy
Chapter 16 The Book Yourself Solid Web Strategy
PART 1 Designing Your Website
PART 2 Getting Visitors to Your Website
PART 3 Building Your Social Media Platform
Final Thoughts
References
How to Reach Michael Port
About the Author
Index
See More
MICHAEL PORT is a small business expert and celebrated public speaking coach, host of the Steal the Show podcast, and the New York Times and Wall Street Journal bestselling author of six books, including Steal the Show, Beyond Booked Solid, Book Yourself Solid ILLUSTRATED, The Contrarian Effect, and The Think Big Manifesto.
See More