PEAK: How Great Companies Get Their Mojo from Maslow Revised and Updated, 2nd Edition
ISBN: 978-1-119-43492-4
320 pages
October 2017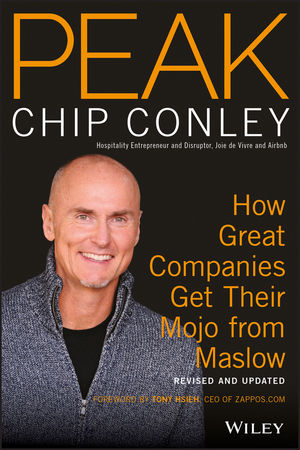 Proven principles for sustainable success, with new leadership insight
PEAK is the popular, transformative guide to doing business better, written by a seasoned entrepreneur/CEO who has disrupted his favorite industry not once, but twice. Author Chip Conley, founder and former CEO of one of the world's largest boutique hotel companies, turned to psychologist Abraham Maslow's Hierarchy of Needs at a time when his company was in dire need. And years later, when the young founders of Airbnb asked him to help turn their start-up home sharing company into a world-class hospitality giant, Conley once again used the principles he'd developed in PEAK. In the decade since this book's first edition, Conley's PEAK strategy has been developed on six continents in organizations in virtually every industry. The author's foundational premise is that great leaders become amateur psychologists by understanding the unique needs of three key relationships—with employees, customers, and investors—and this message has resonated with every kind of leader and company including some of the world's best-known, from Apple to Facebook. Avid users of PEAK have found that the principles create greater loyalty and differentiation with their key stakeholders. This new second edition includes in-depth examples of real-world PEAK companies, including the author's own at Airbnb, and exclusive PEAK leadership practices that will take you—and your company's performance—to new heights.
Whether you're at a startup or a Fortune 500 company, at a for-profit, nonprofit, or governmental organization, this book can help you and your people reach potential you never realized you had.
Understand how Maslow's hierarchy makes for winning business practices
Learn how PEAK drove some of today's top businesses to success
Help employees reach their full potential—and beyond
Transform the customer experience and keep investors happy
The PEAK framework succeeds because it elevates the business from the inside out. These same principles apply in the boardroom, the breakroom, and your living room at home, and have proven to be the foundation of healthy, fulfilled lives. Even if you think you're doing great, you could always be doing better—and PEAK gives you a roadmap to the next level.
See More
Foreword xi
Introduction xiii
Preface xxi
PART ONE: MASLOW AND ME
1 Toward a Psychology of Business 3
2 Karmic Capitalism 17
3 The Relationship Truths 31
PART TWO: RELATIONSHIP TRUTH 1: THE EMPLOYEE PYRAMID
4 Creating Base Motivation 45
5 Creating Loyalty 61
6 Creating Inspiration 77
PART THREE: RELATIONSHIP TRUTH 2: THE CUSTOMER PYRAMID
7 Creating Satisfaction 99
8 Creating Commitment 119
9 Creating Evangelists 135
PART FOUR: RELATIONSHIP TRUTH 3: THE INVESTOR PYRAMID
10 Creating Trust 159
11 Creating Confidence 175
12 Creating Pride of Ownership 187
PART FIVE: PUTTING THE TRUTHS INTO ACTION
13 The Heart of the Matter 201
14 Peak Leadership Practices 215
15 Creating a Self-Actualized Life 235
Appendix: Peak Managerial Assessment 247
Notes 251
References 259
Acknowledgments 267
The Author 271
Index 273
See More
CHIP CONLEY is founder and former CEO of Joie de Vivre Hospitality and Strategic Advisor for Hospitality and Leadership at Airbnb. Entrepreneur, disruptive business rebel, and social change agent, he is The New York Times bestselling author of Emotional Equations and a recipient of the hospitality industry's highest honor, the Pioneer Award.
See More