E-book
The Sentient Enterprise: The Evolution of Business Decision Making
ISBN: 978-1-119-43889-2
176 pages
September 2017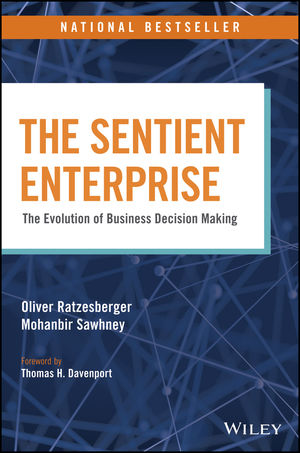 Mohan and Oliver have been very fortunate to have intimate views into the data challenges that face the largest organizations and institutions across every possible industry—and what they have been hearing about for some time is how the business needs to use data and analytics to their advantage. They continually hear the same issues, such as:
We're spending valuable meeting time wondering why everyone's data doesn't match up.
We can't leverage our economies of scale while remaining agile with data.
We need self-serve apps that let the enterprise experiment with data and accelerate the development process.
We need to get on a more predictive curve to ensure long-term success.
To really address the data concerns of today's enterprise, they wanted to find a way to help enterprises achieve the success they seek. Not as a prescriptive process—but a methodology to become agile and leverage data and analytics to drive a competitive advantage.
You know, it's amazing what can happen when two people with very different perspectives get together to solve a big problem. This evolutionary guide resulted from the a-ha moment between these two influencers at the top of their fields—one, an academic researcher and consultant, and the other, a longtime analytics practitioner and chief product officer at Teradata. Together, they created a powerful framework every type of business can use to connect analytic power, business practices, and human dynamics in ways that can transform what is currently possible.
See More
Foreword ix
Introduction xiii
Chapter 1 Reimagining the Enterprise 1
Disruption and Decision Making 3
Self-Disruption at Cisco: On Purpose and at Scale 4
Self-Disrupt in Sustainable Ways 5
Analytic Pain Points and a Self-Service Revolution 6
Access and Control 8
A Necessary Evolution 11
Putting It All Together 12
Chapter 2 Leveraging an Expanding Universe of Data 15
A Universe of Data: Expanding Exponentially with New Sources 17
Game-Changing Capabilities 20
Well-Intentioned Anarchy 22
Data Marts and Their Discontents 23
A Solution? "LinkedIn for Analytics" 25
Getting Back to eBay: Fulfilling the Analytics Mandate 27
Chapter 3 The Agile Data Platform 31
Retaining Agility at Scale 32
Rethinking Waterfall Methodologies 34
Agile Analytics 35
Spreading Agility Company-Wide with the Virtual Data Mart 36
A Virtual Data Mart (by Any Other Name) in Action 38
Time Boxing 39
Fewer Requirements, More Prototypes 40
Analytics on Analytics 41
Making It Real with the Layered Data Architecture 42
Driving Change in the Auto Industry 45
Remembering the Big Picture 46
Chapter 4 The Behavioral Data Platform 49
Personalized—If Not Personal—Interaction 52
New Measures for Success, Built on Behavioral Data 53
Leveraging Behavioral Data for Real-World Business Challenges 55
Behavioral Data Is Everywhere 58
Agile Systems for Behavioral Data 59
Back Inside the Layered Data Architecture 62
Reaping Value and Insight 64
Proactive Data Standards and Designing for the Unknown 65
Chapter 5 The Collaborative Ideation Platform 67
Avoiding "Anti-Social" Analytics 68
The Problem of Metadata at Scale 70
Collaboration and Context at Scale 72
Merchandising Analytic Insights 73
Staying on the Path to Value through Analytics on Analytics 75
Adoption Takes Time 77
Operationalizing Insights 78
Chapter 6 The Analytical Application Platform 81
Turning Analytic Insight into Action Across the Organization 83
Lessons from the Cloud 85
Creating an App Economy for the Enterprise 86
DevOps to Make It Real 88
Less ETL . . . 91
. . . More "Data Listening" 92
Setup for Sentience 94
Chapter 7 The Autonomous Decisioning Platform 97
Fast-Changing Capabilities 99
Self-Driving Cars … and Companies 100
"System of Systems" Building Blocks for Sentience 101
Algorithms: A Must-Have for Autonomous Decisioning 102
Strategically Applying Algorithmic Intelligence in the Enterprise 105
Algorithmic "Magic" 106
Analytics on Algorithms to Improve Decision Making 107
Combining Algorithms on the Home Stretch to Sentience 109
Agility as the Ultimate Litmus Test 111
Chapter 8 Implementing Your Course to Sentience 113
Ask the Right Questions, Warts and All 115
Agile Strategic Planning Is Not an Oxymoron 116
Adopt a Start-Up Mind-Set and Don't Boil the Ocean 118
Pick the Right Internal Partners to Demonstrate Value 119
Embrace Agile Project Management Strategies 120
Embrace Concurrency, Ensure Scalability 120
Design in Governance That's Seamless and Repeatable 121
Optimize a Workforce to Act Fast, Fail Fast, and Scale Fast 122
"It's the Culture, Stupid" 123
Conclusion 125
Acknowledgments 137
About the Authors 139
Index 141
See More
OLIVER RATZESBERGER is executive vice president and chief product officer of Teradata Corporation. Prior to Teradata, he spent seven years at eBay where he led their data warehouse and big data platform programs. He also has deep experience with open source startups. Ratzesberger joined Teradata in early 2013 as leader of the Teradata Research & Development software teams. As head of Teradata R&D, he now oversees a global organization including more than 1,900 technologists around the world.
MOHAN SAWHNEY is the McCormick Foundation Chair of Technology, Clinical Professor of Marketing and the Director, Center for Research in Technology & Innovation at the Kellogg School of Management at Northwestern University. Professor Sawhney is a globally recognized scholar, teacher, consultant and speaker in innovation, strategic marketing and new media. His research and teaching currently focuses on modern marketing, organic growth and business innovation. Professor Sawhney advises and speaks to Global 2000 firms and governments worldwide and has written six management books as well as dozens of influential articles in leading academic journals and managerial publications.
See More