Big Picture Pedagogy: Finding Interdisciplinary Solutions to Common Learning Problems: New Directions for Teaching and Learning, Number 151
ISBN: 978-1-119-44596-8
200 pages
October 2017, Jossey-Bass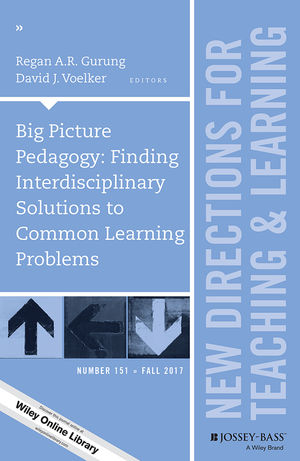 This is the 151st volume of this Jossey-Bass higher education series. It offers a comprehensive range of ideas and techniques for improving college teaching based on the experience of seasoned instructors and the latest findings of educational and psychological researchers.
See More
FOREWORD 7
Anthony A. Ciccone
Preface: How Do You Find Interdisciplinary Solutions to Common Learning Problems? 11
Regan A. R. Gurung, David J. Voelker, Editors
1. How Do You Listen to Your Students to Help Them Learn about Race and Racism? 17
Cyndi Kernahan, Nancy L. Chick
2. How Do You Foster Deeper Disciplinary Learning with the "Flipped" Classroom? 31
Angela Bauer, Aeron Haynie
3. How Do You Build Community and Foster Engagement in Online Courses? 45
Joanne Dolan, Kevin Kain, Janet Reilly, Gaurav Bansal.
4. How Do You Effectively Teach Empathy to Students? 61
Maria Stalzer Wyant Cuzzo, Mimi Rappley Larson, Lisa Miller Mattsson, Terry D. McGlasson
5. How Do You Take Learning Beyond the Classroom in an Interdisciplinary First-Year Seminar? 79
Peggy James, Christopher Hudspeth
6. How Do You Use Experiential Learning to Bridge the Classroom and the Real World? 97
Victoria Simpson Beck, Stephanie K. Boys, Hannah J. Haas, Karen N. King
7. How Do You Use Problem-Based Learning to Improve Interdisciplinary Thinking? 117
Christine Vandenhouten, Joan Groessl, Ekaterina Levintova
8. How Do You Increase Students' Global Learning in the Classroom? 135
Hilary N. Fezzey, Eri Fujieda, Lynn Amerman Goerdt, Heather Kahler, Ephraim Nikoi
9. How Do You Intentionally Design to Maximize Success in the Academically Diverse Classroom? 151
Renee Chandler, Julie A. Zaloudek, Kitrina Carlson
10. How Do You Achieve Inclusive Excellence in the Classroom? 171
Jennifer R. Considine, Jennifer E. Mihalick, Yoko R. Mogi-Hein,
INDEX 189
See More