E-book
QuickBooks 2012 For Dummies, UK Edition
ISBN: 978-1-119-94065-4
416 pages
January 2012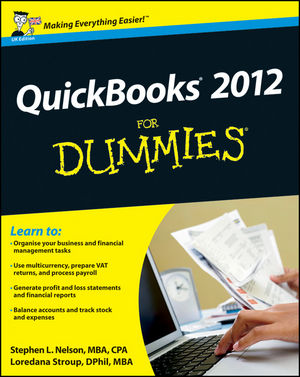 Learn to use the UK's number one small business accounting software!
A reliable accounting system is integral to the success of any small business and QuickBooks is the finance program you need to handle your financial and business management tasks efficiently. This eagerly awaited book shows you how to use this popular software to build a budget, process payroll, create invoices, manage inventory, balance accounts, and much more—all without having to hire expensive financial professionals.
After discovering the best way to install and setup QuickBooks, the authors show you how to use QuickBooks to maintain your accounting records to comply with tax laws, enter data, keep track of your cheque book and credit card accounts, and produce common financial reports that track every penny coming in and going out.
Shares proven secrets for building a solid budget
Details how to track accounts receivable and payable
Provides clear steps for keeping track of inventory as you purchase and sell items
Highlights ways to track who needs to get paid, who owes money, and what needs to get done
QuickBooks "X" For Dummies, UK Edition addresses the unique needs of UK businesses and helps you keep your business in the black.
See More
Introduction 1
Part I: Quickly into QuickBooks 7
Chapter 1: QuickBooks: The Heart of Your Business 9
Chapter 2: Answering Mr Wizard 17
Chapter 3: Populating QuickBooks Lists 37
Part II: Daily Entry Tasks 85
Chapter 4: Creating Invoices and Credit Notes 87
Chapter 5: Collecting Your Just Rewards 113
Chapter 6: Paying the Bills 137
Chapter 7: Stock Magic 163
Chapter 8: Working with Your Banking Register 181
Chapter 9: Paying with Plastic 197
Chapter 10: Working with Multicurrency 207
Part III: Stuff You Do from Time to Time 229
Chapter 11: Managing VAT 231
Chapter 12: Payroll 249
Chapter 13: Building the Perfect Budget 275
Part IV: Housekeeping Chores 283
Chapter 14: The Balancing Act 285
Chapter 15: Reporting on the State of Affairs 295
Chapter 16: Job Estimating, Billing, and Tracking 309
Chapter 17: File Management Tips 319
Part V: The Part of Tens 329
Chapter 18: Tips for Handling (Almost) Ten Tricky Situations 331
Chapter 19: (Almost) Ten Secret Business Formulas 341
Part VI: Appendixes 357
Appendix A: Installing QuickBooks in Ten Easy Steps 359
Appendix B: If Numbers Are Your Friends 363
Appendix C: Sharing QuickBooks Files 381
Appendix D: Printing Cheques 389
Index 395
See More
Stephen L. Nelson,
CPA, MBA (finance), MS (taxation), has a simple purpose in life: He wants to help you (and people like you) manage your business finances by using computers. Oh, sure, this personal mandate won't win him a Nobel Prize or anything, but it's his own little contribution to the world.
Steve's experiences mesh nicely with his special purpose. A CPA in Redmond, Washington, his past small business experience includes a stint as an adjunct professor of taxation (S corporations and limited liability companies) at Golden Gate University graduate tax school and a few years working as a senior consultant and CPA with Arthur Andersen & Co. (er, yeah,
that
Arthur Andersen — but, hey, it was nearly 30 years ago). Steve, whose books have sold more than 4 million copies in English and have been translated into 11 other languages, is also the bestselling author of
Quicken 2012 For Dummies
.
Loredana Stroup, DPhil (Oxon), MBA, has over a decade of experience working with businesses in various capacities including management consulting, software training, and technology systems design and integration. Her passion is to help people run their businesses more efficiently and effectively, especially through the use of proven digital technologies. She founded and runs Alta Training Limited which specialises in QuickBooks setups, training, and troubleshooting. Intuit, the maker of QuickBooks, has recognised her expertise and tapped it in the development, testing and launching of QuickBooks (UK), and also in engaging her to write training materials and deliver training programmes across the country.
See More