E-book
eBay.co.uk For Dummies, 3rd Edition
ISBN: 978-1-119-94391-4
384 pages
August 2012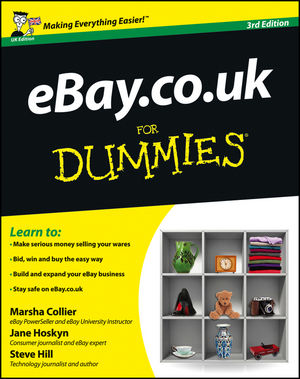 Go from eBay beginner to eBay pro in no time!
Whether you aim to browse, buy, sell, or open up your own eBay shop, this third edition of Britain's bestselling guide to eBay gets you up and running with everything you need to know. Fully updated and packed with new information on eBay apps, creating and running an eBay business, becoming a PowerSeller and much more, it covers every aspect of eBay.co.uk, from security issues and avoiding scams to making serious cash in your spare time or as a full-time eBay merchant.
Get acquainted – from registering and setting up a homepage to organising eBay sales and communicating using the 'My eBay' page, you'll quickly feel right at home on eBay
Bid and buy with confidence – discover how to search for and evaluate items, make bids and win auctions, or use the 'Buy It Now' option
Sell like a pro – get the lowdown on how to choose and post items for sale, set prices and conduct auctions for maximum profits, as well as how to ship stuff and collect payments
Keep the taxman happy – how to keep track of your earnings and comply with all the relevant tax rules and regulations, including the VAT
Give your auctions pizzazz – get expert tips on how to spice up your auctions with pictures and graphics as well as links to other websites
Stay safe and secure – learn everything you need to know about avoiding fraudsters, scammers and hackers and safeguarding your privacy and your identity
Open the book and find:
How to register and buy and sell on eBay
Advice on bidding and winning eBay auctions
Expert tips on choosing items to sell and picking the ideal auction time
How to set up sale listings and monitor your transactions
Tips for marketing your stuff on eBay
The lowdown on avoiding cons and protecting your privacy
Guidance on setting up an eBay business account
How to open your own eBay shop
Learn to:
Make serious money selling your wares
Bid, win and buy the easy way
Build and expand your eBay business
Stay safe on eBay.co.uk
See More
Introduction 1
Part I: Forget the Shops: Getting a Feel for eBay 7
Chapter 1: Why eBay Is a Great Place to Buy and Sell 9
Chapter 2: Getting on the Gravy Train: Joining eBay 19
Chapter 3: Home Page Sweet Home Page 31
Chapter 4: My Own Private eBay  45
Part II: Are You Buying What They're Selling? 67
Chapter 5: Seek and Ye Shall Find: Research   69
Chapter 6: Shopping on eBay: The Basics 89
Chapter 7: Power-Bidding Strategies 113
Chapter 8: After You've Bought the Goods 125
Part III: Are You Selling What They're Buying? 137
Chapter 9: Selling in Your Dressing Gown for Fun and Profit 139
Chapter 10: Time to Sell: Completing the Cyber Paperwork 163
Chapter 11: Hitting the eBay Shops 183
Chapter 12: Closing the Deal and Getting It Delivered  191
Chapter 13: Troubleshooting Your Listing  211
Chapter 14: Using Pictures and Strategies to Increase Your Profits 229
Chapter 15: Making Serious Money Selling on eBay  247
Chapter 16: Building an eBay Empire 263
Part IV: Bells and Whistles: Special Features 279
Chapter 17: Staying Safe on eBay 281
Chapter 18: The eBay Community: Getting Along with Other eBay Members 303
Chapter 19: Fun Stuff and Features 317
Part V: The Par t of Tens 329
Chapter 20: Ten (or So) Golden Rules for eBay Buyers and Sellers 331
Chapter 21: Ten (or So) Programs and Services to Ease Your Way on eBay 337
Chapter 22: Ten Ways to Source Stock You Can Sell on eBay 343
Index 349
See More
Marsha Collier is an eBay PowerSeller, eBay University Instructor, and author. Jane Hoskyn is a consumer journalist and eBay expert. Steve Hill is a journalist and author with a ten-year career in technology publishing.
See More