Organization: Contemporary Principles and Practice, 2nd Edition
ISBN: 978-1-119-95183-4
536 pages
February 2015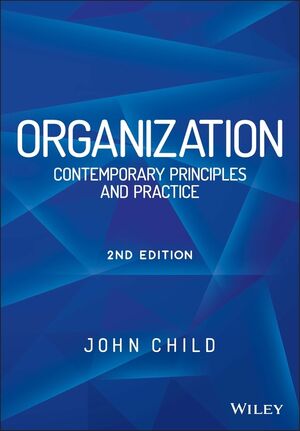 The definitive organization management text for executives and aspiring business leaders
Organization: Contemporary Principles and Practices, Second Edition is the completely updated and revised landmark guide to "macro" organization theory and design, fully grounded in current international practice. International management expert John Child explores the conditions facilitating the development of new organizational forms and provides up-to-date coverage of the key developments driving new organization structure and practice. This revised Second Edition includes a new introductory section on Organization Theory as well as a complete Instructor Manual updated with new material on the basic principles of organizational design.
With detailed case studies and examples from throughout the UK, Europe, Asia and North America, Organization provides a truly international overview for advanced students and business executives who want to be at the forefront of the evolution in Organization Theory. 21st Century organizations will be faced with entirely new challenges and opportunities than those faced by previous generations, and emerging business leaders must understand the new "macro" realities in order to succeed. Organization will help readers:
Understand the "macro" organization, which is distinct from organizational behaviour
Explore the way organizations fit into the international business environment and global economy
Analyze the way organizational structure and design affect management performance
Apply advanced organization theory and principles to day to day management activities
Written by one of the foremost scholars, the fully updated Second Edition of this successful text provides executives and advanced business students with a wide-ranging and trustworthy guide to organizations as the conditions for their survival in our global business environment change.
See More
Preface to Second Edition VII
Preface from the First Edition IX
PART I THE BROAD PICTURE 1
Chapter 1 Organization and Its Importance 3
Chapter 2 Perspectives on Organizational Design until Recent Times 27
Chapter 3 New Conditions, New Organization 53
PART II NEW INTERNAL FORMS 85
Chapter 4 Simpler Structures – Reducing Hierarchy 87
Chapter 5 Achieving Integration 109
Chapter 6 Control 143
Chapter 7 Questions of Reward 171
Chapter 8 Payment Systems 191
PART III NEW NETWORK FORMS 215
Chapter 9 Outsourcing and Offshoring 217
Chapter 10 Virtual Organization 241
Chapter 11 Strategic Alliances 269
Chapter 12 Organizing Across Borders 291
PART IV ACHIEVING EFFECTIVE ORGANIZATIONS 331
Chapter 13 Managing Organizational Change 333
Chapter 14 Organizing for Learning 371
Chapter 15 Generating and Utilizing Trust 405
Chapter 16 Corporate Governance in New Organizational Forms 427
PART V DESIGNING ORGANIZATIONS FOR THE 21ST CENTURY 451
Chapter 17 Meeting Strategic Business Needs 453
Chapter 18 Meeting Strategic Social Needs 477
Author Index 497
Subject Index 507
See More
JOHN CHILD is an internationally acknowledged expert on organization and international business. He is particularly known for his grounded approach to the practice of management. Among Child's 23 books, Corporate Co-evolution, co-authored with Suzana Rodrigues, won the 2009 Terry Book Award of the Academy of Management.
See More
"John Child excels once again at connecting the past, present and future of organizational thought and managerial practice. By deepening its theoretical foundations and expanding its discussion of 21st-century topics, this second edition is an exciting and insightful journey for faculty and students alike."
—Guido Möllering, Professor of Organization and Management, Jacobs University Bremen
"This is an outstanding contribution to literature from a world class academic. His contribution to the field of organizational studies is without parallel and this work is a monumental contribution to the global literature on organizational behavior."
—Sir Cary Cooper, Lancaster University Management School
"John Child has done it again. This accessible and scholarly book brings the analysis of organizational forms where it belongs at the very centre of the fields of organization and strategy."
—Andrew Pettigrew, Saïd Business School, Oxford University
"Conventional, sluggish bureaucracies are being introduced to a new structural vocabulary as they attempt to respond to the challenge of globalization. John Child provides a lucid and engaging guide to this changing world of organizations."
—W. Richard Scott, Department of Sociology, Stanford University
See More