E-book
Chern on Dispute Boards, 2nd Edition
ISBN: 978-1-119-95199-5
448 pages
September 2011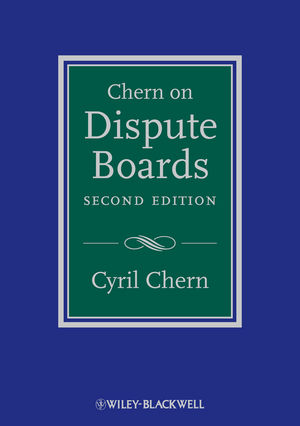 A dispute board is a panel of impartial members, appointed at the outset of the construction contract, whose purpose is to monitor progress, resolve disputes as they arise and provide a forum for discussing difficult matters.
This book provides an in depth analysis of dispute board law and detailed, practical explanations of how dispute boards work in construction contracts for those actively involved. as well as for those who need to learn the process. Important features of the book include:
Explanation of how a dispute board works: Insider knowledge of board operations: Key documents to run a dispute board: Detailed discussion of dispute board law (covering key jurisdictions worldwide): Forms of practice and procedure, and sample documents
Reviews of the previous edition
"Chern's book provides an extremely practical guide, covering not only an introduction to the process but also providing check lists and sample documentation.... This book will be welcome by practitioners in the area and newcomers to the dispute board process."
—The International Journal of Arbitration, Mediation and Dispute Management, November 2009
"This book will provide a very useful, perhaps essential, guide to parties commissioning large capital construction projects, those advising them and those bidding to carry out such works, and importantly, the project funders."
—The Expert & Dispute Resolver
"This is a must-have book for grown up contractors"
—Tony Bingham, Building
"His timely work …concentrating on what may prove to be the primary means of dispute resolution for major international construction projects is to be welcomed."
—HHJ Humphrey Lloyd, QC, The International Construction Law Review
"This excellent book on Dispute Boards is a must for every construction lawyer, engineer, architect and contractor who is either involved in Dispute Boards or wants to be"
—Herbert Wilson, The Journal of the Dispute Board Federation
See More
The Author xvi
Preface xvii
Acknowledgements xix
Chapter 1 The Dispute Board Concept 1
Chapter 2 Types of Dispute Boards 25
Chapter 3 Legal Basis for Dispute Boards 31
Chapter 4 Case Histories 70
Chapter 5 Appointing and Establishing a Dispute Board 79
Chapter 6 Selection of a Dispute Board 108
Chapter 7 Referral to a Dispute Board 155
Chapter 8 Elements of a Referral 168
Chapter 9 Site Visits 187
Chapter 10 The Hearing Process 213
Chapter 11 Board Member Conflicts 254
Chapter 12 Removal of Board Members 269
Chapter 13 Dispute Boards – Use, Training and Current Practice 276
Chapter 14 Development Banks 289
Chapter 15 Additional Forms 301
Appendix 1 FIDIC (Red Book) Conditions of Contract for Construction 332
Appendix 2 FIDIC (Yellow Book) Conditions of Contract for Plant and Design-Build 343
Appendix 3 FIDIC (Silver Book) Conditions of Contract for EPC Turnkey Projects 353
Appendix 4 FIDIC (Gold Book) Conditions of Contract for Design, Build and Operate Projects 363
Appendix 5 Dispute Board Rules of the International Chamber of Commerce 375
Appendix 6 Sample Oaths and Affi rmations 393
Appendix 7 The Dispute Board Federation Dispute Adjudication Board Ad Hoc Rules for Use in Independently Administered Dispute Board Matters 395
Resources 406
Table of Cases 407
Index 409
See More
Dr Chern is a Barrister practising at Crown Office Chambers, London. Additionally he is a Chartered Architect, Fellow of the Chartered Institute of Arbitrators, Fellow of the Dispute Board Federation, Chartered Arbitrator, Accredited Mediator and Adjudicator and holds the degrees of BArch (Honours) in Architecture and Engineering and Juris Doctor. He has practised since 1972 specifically in the areas of engineering and construction disputes in the United Kingdom, the EU and internationally. As an adjudicator he is on numerous appointing bodies including the FIDIC President's List of Approved Adjudicators, The Dispute Board Federation (Geneva) Panel of Approved Dispute Board Members, and the Institution of Civil Engineers (ICE) Dispute Board panel. He has extensive experience in civil and structural engineering design issues, supervision of construction, contract management, construction insurance, arbitration, mediation, adjudication and other methods of dispute resolution. He has had over 580 engineering construction dispute references and has served on over 100 dispute boards in that time, acting as chairman on most occasions. He has over 40 years' experience in arbitration, mediation and adjudication and has handled complex international commercial and construction matters in over 20 countries worldwide located in North and South America, Europe, the Middle East, China, and Africa.
Dr Chern is a member of various panels, groups and committees both in the United Kingdom and abroad including the FIDIC Adjudicators Assessment Panel and the Dispute Board Federation Advisory Panel, the Royal Institution of Chartered Surveyors (RICS) Dispute Resolution Committee, the Association Suisse de L'Arbitrage, the Civil Mediation Committee, the Society of Construction Arbitrators, and the Association of Consulting Engineers, and he is a Fellow of the Centre for International Legal Studies in Austria, Fellow of the Dispute Board Federation (Geneva) and its Secretary,  and a sustaining member of the Dispute Resolution Board Foundation in the United States. Additionally he is a dispute board trainer for both the FIDIC, the DBF, RICS, and International Chamber of Commerce (ICC) rules and procedures.
In addition to this book, Dr Chern is the author of a large number of papers and articles on dispute boards, construction disputes, and mediation and is the author of International Commercial Mediation and The Law Of Construction Disputes both published by Informa Publishing London. Additionally he is the co-author and subject editor for Emden's Construction Law: ADR and Dispute Boards published by LexisNexis Butterworths, London.
See More