Cognitive Psychology For Dummies
ISBN: 978-1-119-95321-0
382 pages
April 2016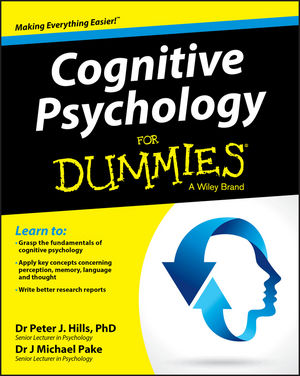 Demystify the core concepts of cognitive psychology
Written specifically for psychology students – and not other academics - Cognitive Psychology For Dummies is an accessible and entertaining introduction to the field. Unlike the dense and jargon-laden content found in most psychology textbooks, this practical guide provides readers with easy-to-understand explanations of the fundamental elements of cognitive psychology so that they are able obtain a firm grasp of the material.
Cognitive Psychology For Dummies follows the structure of a typical university course, which makes it the perfect supplement for students in need of a clear and enjoyable overview of the topic. The complexities of a field that explores internal mental processes – including the study of how people perceive, remember, think, speak, and solve problems – can be overwhelming for first-year psychology students. This practical resource cuts through the academic-speak to provide a clear understanding of the most important elements of cognitive psychology.
Obtain a practical understanding of the core concepts of cognitive psychology
Supplement required course reading with clear and easy-to-understand overviews
Gain confidence in your ability to apply your knowledge of cognitive psychology
Prepare for upcoming exams or topic discussions
Cognitive Psychology For Dummies is the perfect resource for psychology students who need a clear and readable overview of the core concepts of cognitive psychology.
See More
Introduction 1
Part I: Getting Started with Cognitive Psychology 5
Chapter 1: Understanding Cognition: How You Think, See, Speak and Are! 7
Chapter 2: Studying Cognitive Psychology Means Studying the Everyday 19
Chapter 3: Improving Academic Performance with Cognitive Psychology 27
Part II: Attending to the Subtleties of Perception 41
Chapter 4: Perceiving the World around You 43
Chapter 5: Seeing How People See Depth and Colour 63
Chapter 6: Recognising Objects and People 81
Chapter 7: Atten‐hut! Paying Attention to Attention 99
Par t III: Minding Your Memory 115
Chapter 8: Where Did I Put My Keys? Short‐Term Memory 117
Chapter 9: You Don't Remember Our Wedding Day? Long‐Term Memory 135
Chapter 10: Knowing about Knowledge 153
Chapter 11: Discovering Why You Forget Things 167
Chapter 12: Memorising in the Real World 179
Par t IV: Communicating What Your Brain Thinks about Language 191
Chapter 13: Communicating the Extraordinary Nature of Language 193
Chapter 14: Studying the Structure of Language 211
Chapter 15: Talking about Language Perception and Production 225
Chapter 16: Discovering the Links between Language and Thought 239
Part V: Thinking Your Way around Thought 253
Chapter 17: Uncovering How People Solve Problems 255
Chapter 18: Thinking Logically about Reasoning 267
Chapter 19: Making Up Your Mind: Decision-Making 281
Chapter 20: Thinking Clearly about the Role of Emotions 293
Par t VI: The Part of Tens 311
Chapter 21: Studying Patients with Brain Damage 313
Chapter 22: Ten Tips for Writing Successful Research Reports 321
Chapter 23: Busting Ten Cognitive Psychology Myths 329
Index 335
See More
Dr Peter J. Hills, PhD, is a principal lecturer and Head of Education in psychology at Bournemouth University. Dr J Michael Pake is a senior lecturer in Psychology at Anglia Ruskin University.
See More