E-book
Body Language For Dummies, 2nd Edition
ISBN: 978-1-119-95379-1
384 pages
January 2012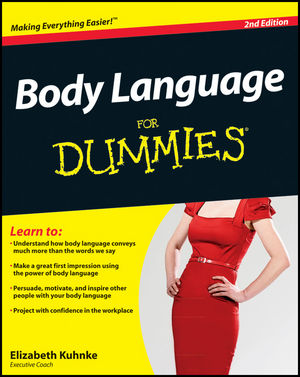 Say what you mean, without opening your mouth
Actions really do speak louder than words, but you've got to be able to understand them. That's where Body Language For Dummies, Second Edition comes in handy. If you find yourself puzzled by other people, or want to improve the impression you give, having an insight into body language is key, and this book will teach you to comprehend what people really mean, even if they say nothing at all, and how you can use your body and your expressions to make a positive impact.
Image and presentation are crucial to successful communication, and realising what kind of impression you give, and understanding how others judge you when you meet them, is an essential skill for getting where you want to go, both personally and professionally.
Body Language For Dummies, Second Edition
Explores why we give the signals we do
How to read the most common expressions
Shows how you can use body language to transform your personal and professional relationships
Perfect for anyone looking for the inside edge in understanding their own and other people's actions, this book is ideal for those who want to ensure their communications are positive in every way, people in relationships, those looking for a relationship and trying to interpret the "signals" of the opposite sex, and countless other readers.
See More
Introduction 1
Part I: In the Beginning Was the Gesture 7
Chapter 1: Defining Body Language 9
Chapter 2: Looking Closer at Non-verbal Gestures 37
Part II: Starting at the Top 47
Chapter 3: Heading to the Heart of the Matter 49
Chapter 4: Watching Facial Expressions 67
Chapter 5: The Eyes Have It 83
Chapter 6: Mastering Lip Reading 103
Part III: The Trunk: Limbs and Roots 119
Chapter 7: Taking It From the Torso 121
Chapter 8: Arming Yourself 139
Chapter 9: It's in the Palm of Your Hand 157
Chapter 10: Standing Your Ground 185
Chapter 11: Playing with Props 201
Part IV: Putting the Body into Social and Business Context 217
Chapter 12: Being Aware of Territorial Rights and Regulations 219
Chapter 13: Rating, Dating, and Mating: Using the Body in Courting Behaviour 241
Chapter 14: Interviewing, Influencing, and Playing Politics 263
Chapter 15: Crossing the Cultural Divide 289
Chapter 16: Reading the Signs 307
Part V: The Part of Tens 315
Chapter 17: Ten Ways to Spot Deception 317
Chapter 18: Ten Ways to Reveal Your Attractiveness 325
Chapter 19: Ten Ways to Find Out About Someone Without Asking 331
Chapter 20: Ten Ways to Improve Your Silent Communication 339
Index 345
See More
Elizabeth Kuhnke is a performance coach, specialising in executive presence. She is the Managing Director of Kuhnke Communication Ltd, a company that designs and delivers leadership programmes across the globe. Her blue chip clients have included Vodafone, Gillette, KPMG, American Express, and Lundbeck Pharmaceuticals as well as global professional services and compliance firms.
See More