Cognitive-Behavioural Therapy for ADHD in Adolescents and Adults: A Psychological Guide to Practice, 2nd Edition
ISBN: 978-1-119-96074-4
328 pages
April 2012, Wiley-Blackwell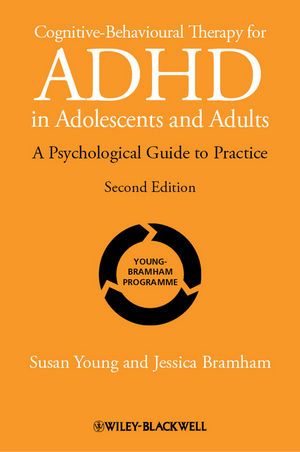 The first edition of this book introduced the Young-Bramham Programme, a pioneering approach to cognitive behavioural treatment for ADHD in adults, which was well-received by clinical and academic communities alike. Based on the latest findings in the field, the authors have expanded the second edition to incorporate treatment strategies not only for adults, but also for adolescents with ADHD.
Updates the proven Young-Bramham Programme to be used not only with adults but also with adolescents, who are making the difficult transition from child to adult services
New edition of an influential guide to treating ADHD beyond childhood which encompasses the recent growth in scientific knowledge of ADHD along with published treatment guidelines
Chapter format provides a general introduction, a description of functional deficits, assessment methods, CBT solutions to the problem, and a template for group delivery
See More
List of Figures, Tables and Boxes vii
About the Authors x
Foreword by Margaret Weiss xi
Foreword by Sam Goldstein xviii
Preface xxi
Acknowledgements xxiii
I BACKGROUND AND TREATMENT 1
1 Introduction 3
2 Delivering the Young-Bramham Programme 21
II CORE SYMPTOM MODULES 37
3 Attention Module 39
4 Memory Module 54
5 Organization and Time-Management Module 64
6 Impulsivity Module 91
III COMORBID AND ASSOCIATED PROBLEM MODULES 109
7 Problem-Solving Module 111
8 Interpersonal Relationships Module 129
9 Anxiety Module 153
10 Frustration and Anger Module 182
11 Low-Mood and Depression Module 203
12 Sleep Module 221
13 Substance Misuse Module 243
IV THE FUTURE MODULE 267
14 Preparing for the Future Module 269
References 285
Index 294
See More
Susan Young
is a Senior Lecturer in Forensic Clinical Psychology at the Institute of Psychiatry, King's College London, and an Honorary Consultant Clinical and Forensic Psychologist at Broadmoor Hospital. In 1994 Susan set up the clinical psychology service at the Maudsley Hospital National Adult ADHD service. She was a member of the National Institute for Health and Clinical Excellence (NICE) ADHD Clinical Guideline Development Group, and is Vice-President of the UK Adult ADHD Network.
Jessica Bramham is a Lecturer in Clinical Neuropsychology in the School of Psychology, University College Dublin. She also leads the Adult ADHD Service at St Patrick's University Hospital Dublin. She previously co-ordinated the National Adult ADHD Service at the Maudsley Hospital in London and was a Clinical Lecturer at the Institute of Psychiatry, King's College London. Jessica is involved in researching cognitive functioning and the presentation of comorbid disorders in adults with ADHD.
See More
"What's nice about this resource is its potential to offer thoughtful and evidence based-psychological intervention, as recommended in current and future national documentation.  It supports the person to be understood and viewed as a whole and not as a problem."  (Journal of Mental Health, 1 January 2013)
See More