LTE and the Evolution to 4G Wireless: Design and Measurement Challenges, 2nd Edition
ISBN: 978-1-119-96257-1
648 pages
April 2013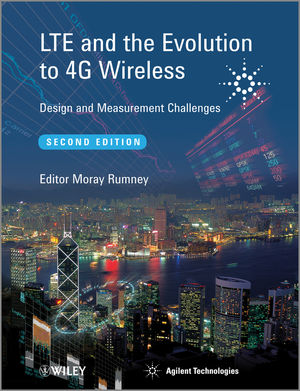 A practical guide to LTE design, test and measurement, this new edition has been updated to include the latest developments
This book presents the latest details on LTE from a practical and technical perspective. Written by Agilent's measurement experts, it offers a valuable insight into LTE technology and its design and test challenges. Chapters cover the upper layer signaling and system architecture evolution (SAE). Basic concepts such as MIMO and SC-FDMA, the new uplink modulation scheme, are introduced and explained, and the authors look into the challenges of verifying the designs of the receivers, transmitters and protocols of LTE systems. The latest information on RF and signaling conformance testing is delivered by authors participating in the LTE 3GPP standards committees.
This second edition has been considerably revised to reflect the most recent developments of the technologies and standards. Particularly important updates include an increased focus on LTE-Advanced as well as the latest testing specifications.
Fully updated to include the latest information on LTE 3GPP standards
Chapters on conformance testing have been majorly revised and there is an increased focus on LTE-Advanced
Includes new sections on testing challenges as well as over the air MIMO testing, protocol testing and the most up-to-date test capabilities of instruments
Written from both a technical and practical point of view by leading experts in the field 
See More
Chapter 1 LTE Introduction 1
Moray Rumney

1.1 Introduction 1

1.2 LTE System Overview 1

1.3 The Evolution from UMTS to LTE 3

1.4 LTE/SAE Requirements 4

1.5 LTE/SAE Timeline 7

1.6 Introduction to the 3GPP LTE/SAE Specification Documents 8

1.7 References 10

Chapter 2 Air Interface Concepts 11

2.1 Radio Frequency Aspects 11
Moray Rumney

2.2 Orthogonal Frequency Division Multiplexing 53
Moray Rumney

2.3 Single-Carrier Frequency Division Multiple Access 62
Moray Rumney

2.4 Multi-Antenna Operation and MIMO 67
Peter Cain

2.5 References 89

Chapter 3 Physical Layer 91

3.1 Introduction to the Physical Layer 91

3.2 Physical Channels and Modulation 91
Mitsuru Yokoyama, Bai Ying

3.3 Multiplexing and Channel Coding 111
Ryo Yonezawa

3.4 Introduction to Physical Layer Signaling 128
Mark Stambaugh, Jean-Philippe Gregoire, Peter Goldsack

3.5 Physical Layer Procedures 142
Peter Goldsack, Dr. Michael Leung, Dr. K. F. Tsang, CityU

3.6 Physical Layer Measurements and Radio Resource Management 148
Moray Rumney

3.7 Summary 157

3.8 References 157

Chapter 4 Upper Layer Signaling 159

4.1 Access Stratum 159
Peter Goldsack, Sarabjit Singh, Steve Charlton, Venkata Ratnakar and Darshpreet Sabharwal

4.2 Non-Access Stratum 178
Sarabjit Singh, Niranjan Das, andPeter Goldsack

4.3 References 194

Chapter 5 System Architecture Evolution 195
Per Kangru, JDSU; Eng Wei Koo, JDSU; Mary Jane Pahls; Sandy Fraser

5.1 Requirements for an Evolved Architecture 195

5.2 Overview of the Evolved Packet System 199

5.3 Quality of Service in EPS 217

5.4 Security in the Network 221

5.5 Services 222

5.6 References 226

Chapter 6 Design and Verification Challenges 229

6.1 Introduction 229
Moray Rumney

6.2 Simulation and Early R&D Hardware Testing 232
Jinbiao Xu and Greg Jue

6.3 Testing RFICs With DigRF Interconnects 285
Chris Van Woerkom and Roland Scherzinger

6.4 Transmitter Design and Measurement Challenges 296
Ben Zarlingo, Moto Itagaki, Craig Grimley and Moray Rumney

6.5 Receiver Design and Measurement Challenges 340
Randy Becker, Naoya Izuchi and Sandy Fraser

6.6 Receiver Performance Testing 356
Sandy Fraser, Naoya Izuchi and Randy Becker

6.7 Testing Open- and Closed-Loop Behaviors of the Physical Layer 378
Peter Cain

6.8 Design and Verification Challenges of MIMO 392
Peter Cain and Greg Jue

6.9 Beamforming 430
Craig Grimley

6.10 SISO and MIMO Over-the-Air Testing 455
Allison Douglas and Moray Rumney

6.11 Signaling Protocol Development and Testing 472
Ian Reading

6.12 UE Functional Testing 480
Mike Lawton

6.13 Battery Drain Testing 493
Moray Rumne and, Ed Brorein

6.14 Drive Testing 499
Bob Irvine, JDSU

6.15 UE Manufacturing Test 509
Jeff Dralla, Ken Horn and Moray Rumney

6.16 References 526

Chapter 7 Conformance and Acceptance Testing 529

7.1 Introduction to Conformance Testing 529
Moray Rumney

7.2 RF Conformance Testing 531
Hiroshi Yanagawa, Gim-Seng Lau, Andrea Leonardi and Moray Rumney

7.3 UE Signaling Conformance Testing 549
Pankaj Gupta, and Moray Rumney

7.4 UE Certification Process (GCF and PTCRB) 555
Masatoshi Obara, Mike Lawton and Moray Rumney

7.5 Operator Acceptance Testing 560
Bill McKinley

7.6 References 564

Chapter 8 Looking Towards 4G: LTE-Advanced 567
Moray Rumney

8.1 Summary of Release 8 567

8.2 Release 9 568

8.3 Release 10 and LTE-Advanced 573

8.4 Release 11 587

8.5 Release 12 595

8.6 References 600

List of Acronyms 601

Index 613
See More
Moray Rumney, Lead Technologist, Agilent Technologies, USA Moray Rumney has enjoyed a varied career path, spanning manufacturing engineering, product development, applications engineering, and most recently technical marketing. His main focus has been the development and system design of base station emulators used in the development and testing of cellular phones. Moray currently represents Agilent at RAN WG4, developing the air interface for HSPA+ and LTE. He has published many technical articles in the field of cellular communications and is a regular speaker and chairman at industry conferences
Agilent Technologies A leader in test and measurement solutions, Agilent Technologies is at the forefront of emerging wireless and broadband markets. With up-to-date, reliable LTE design automation and test solutions, it provides the most complete measurement coverage - from RF to digital - throughout the product development cycle. Agilent design and test products are based on the company's knowledge gained through active participation in the relevant 3GPP working groups. Agilent's engineers have already produced one of the industry's first and most extensive lines of WiMAX solutions. 
See More