E-book
UKCAT For Dummies
ISBN: 978-1-119-96656-2
360 pages
March 2012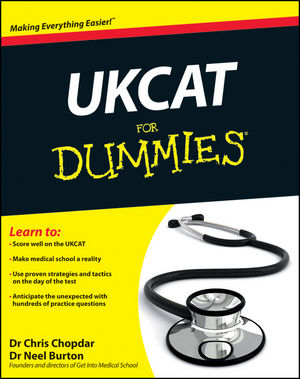 The UK Clinical Aptitude Test (UKCAT) is a standardized test used as an entrance examination for the majority of medical and dental schools in the UK. Its purpose is to test the likely aptitude of a candidate for a clinical career.
UKCAT For Dummies provides readers with the review materials they need to score well on the UKCAT and make medical school a reality, featuring:
A proven UKCAT preparation program with a five-year history of success
Hundreds of a practice questions and explanations
Test-taking strategies that work
Information and advice on the entire application process from Drs. Chris Chopdar and Neel Burton
Go to dummies.com/go/UKCAT to see the latest on UKCAT
See More
Introduction 1
Part I: Understanding UKCAT 7
Chapter 1: The UKCAT and University 9
Chapter 2: Dissecting UKCAT 17
Chapter 3: Taking Tests: UKCAT Strategies that Work 29
Part II: Examining the Subtests 35
Chapter 4: Reading Between the Lines: The Verbal Reasoning Subtest 37
Chapter 5: Making Things Add Up: The Quantitative Reasoning Subtest 61
Chapter 6: Looking at Pretty Patterns: The Abstract Reasoning Subtest 89
Chapter 7: Deciphering the Code: The Decision Analysis Subtest 111
Part III: Practice Tests 141
Chapter 8: Practice Test One 143
Chapter 9: Practice Test One: Answers and Explanations 193
Chapter 10: Practice Test Two 227
Chapter 11: Practice Test Two: Answers and Explanations 277
Part IV: The Part of Tens 309
Chapter 12: Ten Steps to Help You Get into Medical or Dental School 311
Chapter 13: Ten Ways to Stay Cool Under Pressure 315
Index 319
See More
Dr Chris Chopdar and Dr Neel Burton are the founders and directors of Get into Medical School (getintomedicalschool.org) an organisation serving individuals aspiring to study medicine. Dr Chopdar studied at Lincoln College, Oxford. In addition to his work at GeMS, he also works as an independent psychiatrist and life coach. Dr Burton trained at Guy's, King's and St. Thomas' School of Medicine in London. He specialised in psychiatry in Oxford, where he regularly tutors medical students. He is the author of two medical textbooks and has won the British Medical Association Young Authors' Award.
See More