Bakery Products Science and Technology, 2nd Edition
ISBN: 978-1-119-96715-6
776 pages
August 2014, Wiley-Blackwell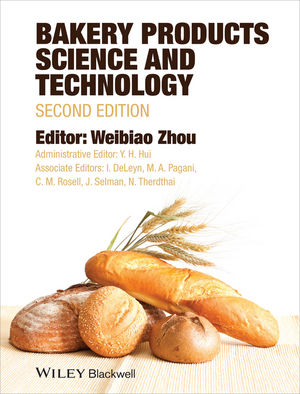 Baking is a process that has been practiced for centuries, and bakery products range in complexity from the simple ingredients of a plain pastry to the numerous components of a cake. While currently there are many books available aimed at food service operators, culinary art instruction and consumers, relatively few professional publications exist that cover the science and technology of baking. In this book, professionals from industry, government and academia contribute their perspectives on the state of industrial baking today.
The second edition of this successful and comprehensive overview of bakery science is revised and expanded, featuring chapters on various bread and non-bread products from around the world, as well as nutrition and packaging, processing, quality control, global bread varieties and other popular bakery products. The book is structured to follow the baking process, from the basics, flour and other ingredients, to mixing, proofing and baking.
Blending the technical aspects of baking with the latest scientific research, Bakery Products Science and Technology, Second Edition has all the finest ingredients to serve the most demanding appetites of food science professionals, researchers, and students.
See More
Preface to the Second Edition vii
Contributors ix
Part 1: Introduction 1
1. Introduction to Baking and Bakery Products 3
Weibiao Zhou, N. Therdthai, and Y. H. Hui
Part 2: Flours 17
2. Wheat Milling and Flour Quality Evaluation 19
M. A. Pagani, Alessandra Marti, and Gabriella Bottega
3. Wheat Flour: Chemistry and Biochemistry 55
Francesco Bonomi, Pasquale Ferranti, and Gianfranco Mamone
4. Rye 75
Kaisa Poutanen, Kati Katina, and Raija-Liisa Heiniö
5. Rice 89
C. M. Rosell and Manuel Gómez
6. Barley, Maize, Sorghum, Millet, and Other Cereal Grains 107
Concha Collar
Part 3: Baking Ingredients 127
7. Water 129
Peter Chung Chieh
8. Yeast 153
Francisca Rández-Gil, Lidia Ballester-Tomás, and José Antonio Prieto
9. Other Leavening Agents 175
I. De Leyn
10. Ascorbic Acid and Redox Agents in Bakery Systems 183
Sarabjit S. Sahi
11. Sugar and Sweeteners 199
Manuela Mariotti and Mara Lucisano
12. Lipids: Properties and Functionality 223
Alejandro Marangoni, Avi Goldstein, and Koushik Seetharaman
13. Eggs 243
Vassilios Kiosseoglou and Adamantini Paraskevopoulou
14. Dairy Ingredients 259
Bonastre Oliete Mayorga and Manuel Gómez
15. Enzymes 275
U. J. S. Prasada Rao and M. S. Hemalatha
16. Other Functional Additives 295
I. De Leyn
Part 4: Baking Science and Technology 307
17. Mixing, Dough Making, and Dough Make-up 309
Noël Haegens
18. Fermentation 325
N. Therdthai
19. Baking 335
Tiphaine Lucas
20. Packaging and Shelf-life Prediction of Bakery Products 355
Virginia Giannou, Dimitra Lebesi, and Constantina Tzia
21. Process Optimization and Control 373
Gary Tucker
22. Sensory Attributes of Bakery Products 391
Raija-Liisa Heiniö
23. Nutritional Attributes of Bakery Products 409
Hyunsook Kim and Wallace H. Yokoyama
24. Browning in Bakery Products: An Engineering Perspective 417
Emmanuel Purlis
25. Functional Bakery Products: An Overview and Future Perspectives 431
Daniel Pinto, Inês Castro, Antonio Vicente, Ana Isabel Bourbon, and Miguel Ângelo Cerqueira
26. Rheology of Bread and Other Bakery Products 453
Nyuk Ling Chin and Peter J. Martin
Part 5: Bread 473
27. Manufacture 475
N. Therdthai and Weibiao Zhou
28. Quality Control 489
Sarabjit S. Sahi, Kim Little, and Victoria Kristina Ananingsih
29. Sourdough 511
Shao Quan Liu
30. Frozen Dough and Par-baked Products 523
Stanley P. Cauvain
31. Steamed Bread 539
Sidi Huang
Part 6: other bakery Products 563
32. Cake Manufacture 565
Frank D. Conforti
33. Biscuits 585
N. N. Misra and Brijesh K. Tiwari
34. Pastries 603
Noël Haegens
35. Pretzel Production and Quality Control 611
Koushik Seetharaman
36. Bakery Products of Unconventional Flours 619
Perla Osorio-Diaz, Rubi G. Utrilla-Coello, Pamela C. Flores-Silva, and Luis A. Bello-Perez
37. Dietetic Bakery Products 639
Selena Chan
Part 7: Examples of World Bakery Products 657
38. Specialities from All Over the World 659
Noël Haegens
39. Bakery Products of China 673
Lu Zhang and Xiao Dong Chen
40. Italian Bakery Products 685
M. A. Pagani, Mara Lucisano, and Manuela Mariotti
41. Mexican Bakery Products 723
Perla Osorio-Diaz, Maria E. Sanchez-Pardo, and Luis A. Bello-Perez
42. Bakery Products of Turkey 735
Gözde Ýnan and Seyhun Yurdugül
Index 745
See More
THE EDITORS
Dr Weibiao Zhou (Editor)
Weibiao Zhou is a full Professor and Director of the Food Science and Technology Programme at the National University of Singapore. An academic and professional scientist, Professor Zhou is an expert on the science, technology, and engineering of bakery products, among other areas of interest. He is a member of food science journal editorial boards for three major publishing houses and and advises government agencies in science, technology, and engineering.
Dr Y. H. Hui (Administrative Editor)
Y. H. Hui is a Consultant to the Food Industry based in Sacramento, California, USA. He has authored, co-authored, edited, and co-edited at least 30 professional reference books in nutrition, health, food science, food technology, food engineering, and food laws.
See More