The Wiley-Blackwell Handbook of Transpersonal Psychology
ISBN: 978-1-119-96755-2
738 pages
October 2013, Wiley-Blackwell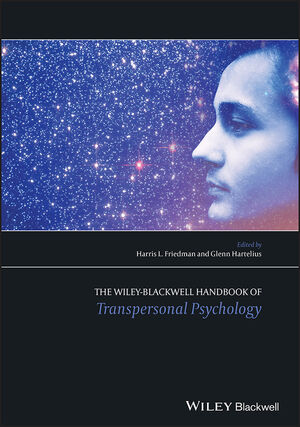 The Wiley Blackwell Handbook of Transpersonal Psychology presents the most inclusive resource yet published on this topic - which seeks to benefit humanity by integrating ancient wisdom and modern knowledge.
Features the work of more than fifty leading voices in the field, creating the most comprehensive survey of transpersonal psychology yet published
Includes emerging and established perspectives
Charts the breadth and diversity of the transpersonal landscape
Covers topics including shamanism, neurobiology, holotropic states, transpersonal experiences, and more
See More
Notes on Contributors ix
Foreword xvii
Acknowledgments xxi
Editors' Introduction xxiii
Part I Introduction to Transpersonal Psychology
1 A Brand from the Burning: Defining Transpersonal Psychology 3
Glenn Hartelius, Geffen Rothe, and Paul J. Roy
2 Traditional Roots, History, and Evolution of the Transpersonal Perspective 23
Michael Daniels
3 The Calling to a Spiritual Psychology: Should Transpersonal Psychology Convert? 44
Glenn Hartelius, Harris L. Friedman, and James D. Pappas
4 Criticisms of Transpersonal Psychology and Beyond—The Future of Transpersonal Psychology: A Science and Culture of Consciousness 62
Harald Walach
Part II Transpersonal Theory
5 Revision and Re-enchantment of Psychology: Legacy from Half a Century of Consciousness Research 91
Stanislav Grof
6 Altered States of Consciousness and Transpersonal Psychology 121
Albert P. Garcia-Romeu and Charles T. Tart
7 Jung, Analytical Psychology, and Transpersonal Psychology 141
Alan G. Vaughan
8 Integral Psychology 155
Brant Cortright
9 Transcend and Include: Ken Wilber's Contribution to Transpersonal Psychology 166
Allan Combs
10 Transpersonal Philosophy: The Participatory Turn 187
Glenn Hartelius and Jorge N. Ferrer
11 Transpersonal Self-Expansiveness as a Scientific Construct 203
Harris L. Friedman
12 Neuroscience and the Transpersonal 223
B. Les Lancaster
Part III Transpersonal Methodologies
13 Transpersonal Research and Future Directions 241
Rosemarie Anderson and William Braud
14 Neurophenomenology: Enhancing the Experimental and Cross-Cultural Study of Brain and Experience 261
Charles D. Laughlin and Adam J. Rock
15 Quantitative Assessment of Transpersonal and Spiritual Constructs 281
Douglas A. MacDonald and Harris L. Friedman
16 The Role of Science in Transpersonal Psychology: The Advantages of Middle-Range Theory 300
Harris L. Friedman
17 Philosophical Underpinnings of Transpersonal Psychology as a Science 312
Douglas A. MacDonald
Part IV Transpersonal Experiences
18 Exploring the Nature of Exceptional Human Experiences: Recognizing, Understanding, and Appreciating EHEs 333
Genie Palmer and Arthur Hastings
19 Psychedelic-Induced Experiences 352
James Fadiman and Andrew Kornfeld
20 Near-Death Experiences and Transpersonal Psychology: Focus on Helping Near-Death Experiencers 367
Cheryl Fracasso, Bruce Greyson, and Harris L. Friedman
21 Transpersonal Sexual Experiences 382
Jenny Wade
22 Parapsychology 401
Adam J. Rock, Lance Storm, Harvey J. Irwin, and Julie Beischel
Part V Transpersonal Approaches to Transformation, Healing and Wellness
23 Transpersonal Perspectives on Mental Health and Mental Illness 419
Jacob Kaminker and David Lukoff
24 Meditation: Empirical Research and Future Directions 433
Douglas A. MacDonald, Roger Walsh, and Shauna L. Shapiro
25 Psychedelic Induced Transpersonal Experiences, Therapies, and Their Implications for Transpersonal Psychology 459
Thomas B. Roberts and Michael J. Winkelman
26 Transpersonal Dimensions of Somatic Therapies 480
Don Hanlon Johnson
27 Hypnosis and Transpersonal Psychology: Answering the Call Within 492
Ian E. Wickramasekera II
28 Dreaming and Transpersonal Psychology 512
Daniel Deslauriers
29 Expressive and Creative Arts Therapies 529
Kim A. Bella and Ilene A. Serlin
30 Psychospiritual Integrative Practices 544
Kathleen Wall, Fabrice Nye, and Eric FitzMedrud
31 The Diamond Approach 562
John V. Davis, Theodore Usatynski, and Zvi Ish-Shalom
32 Transpersonal Psychotherapies 580
Vitor Rodrigues and Harris L. Friedman
Part VI Transpersonal Studies
33 Ecopsychology and Transpersonal Psychology 597
John V. Davis and Jeanine M. Canty
34 Feminist and Cultural Contributions to Transpersonal Psychology 612
Christine Brooks, Kendra Ford, and Anne Huffman
35 Widening Circles: The Emergence of Transpersonal Social Engagement 626
Donald Rothberg and Katherine E. Coder
36 Modern Miracles from Ancient Medicine: Transpersonal Medicine Approaches 640
G. Frank Lawlis
37 Transpersonal Experience and the Arts: From the Chauvet Cave to Occupy Wall Street 652
Lisa Herman
38 Transpersonal Education 666
Nancy Rowe and William Braud
Appendix 687
Index 693
See More
Harris L. Friedman is a former Research Professor of Psychology at the University of Florida, USA, and Emeritus Professor at Saybrook University, USA. A Fellow of the American Psychological Association and past President of the International Transpersonal Association, he continues to practice psychology and is the current Chair of the Transpersonal Psychology Interest Group of the APA's Society for Humanistic Psychology. Professor Friedman has published extensively on transpersonal psychology and is senior editor of the International Journal of Transpersonal Studies and associate editor of The Humanistic Psychologist.
Glenn Hartelius teaches in the doctoral program at Sofia University's School of Transpersonal Studies, Palo Alto, USA. He is editor of the International Journal of Transpersonal Studies and Secretary of the International Transpersonal Association. Dr Hartelius has published work in the fields of transpersonal psychology and consciousness studies, and has taught at the California Institute of Integral Studies as well as at Naropa University in the state of Colorado. He has thirty years' experience in private practice as a somatic counselor and practitioner.
See More