Scarcity: Architecture in an Age of Depleting Resources
ISBN: 978-1-119-97362-1
144 pages
August 2012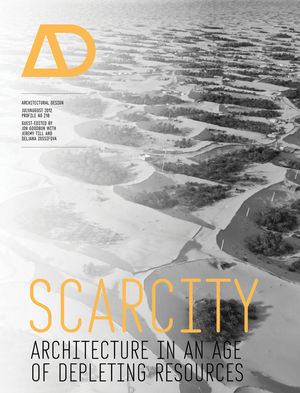 Currently, the world is experiencing a 'perfect storm' of social, political, economic and ecological proportions. The full extent and severity of present conditions are yet to be determined. One thing, however, is certain: the foreseeable future will not be like the recent past. Leading analysts of all the major resource domains – water, food, material, energy and finance – are all telling us that our global industrial growth models, driven by speculation on unstable financial markets, are taking the planet to the brink of chronic scarcity. Some of these shortages are determined by natural limits of mineral resources, such as petroleum and coal, and others by the mismanagement of natural resources, such as water, timber and food; a situation that is often characterised by uneven social and geographic distribution of supplies. In architecture, concerns about depleting material and energy sources have largely been centered on the more emollient category of 'sustainability'. In the next decade, however, as the situation becomes more pressing, architects and designers will need to confront the reality of scarcity. There are many ways that architecture, urban planning and design research can tackle such issues: from developing new forms of analysis of global flows and scarcities, to specific local and global design-based solutions. A full engagement with these issues has the potential to completely reconfigure design practice in radically new, post-sustainable directions.
Brings together leading thinkers for the first time in a single volume: Ezio Manzini, Erik Swyngedouw, John Thackara and Jeremy Till.
Featured architects and designers include: Jody Boehnert, Katrin Bohn and André Viljoen, and muf.
See More
5 Editorial

Helen Castle
6 About the Guest Editors
Jon Goodbun with Jeremy Till and Deljana Iossifova
8 Introduction
Themes of Scarcity
Jon Goodbun, Jeremy Till and Deljana Iossifova
16 Scarcity and Abundance: Urban Agriculture in Cuba and the US
André Viljoen and Katrin Bohn
22 Cities, Natures and the Political Imaginary
Maria Kaika and Erik Swyngedouw
28 Architecture and Relational Resources: Towards a New Materialist Practice
Jon Goodbun and Karin Jaschke
34 Visualising Ecological Literacy
Jody Boehnert
38 Invisible Agency
Jeremy Till and Tatjana Schneider
44 Systemic Diagramming: An Approach to Decoding Urban Ecologies
Ulysses Sengupta and Deljana Iossifova
52 Flexibility and Ecological Planning: Gregory Bateson on Urbanism
Jon Goodbun
56 Error-Friendliness: How to Deal with the Future Scarcest Resource: The Environmental, Social, Economic Security. That is, How to Design Resilient Socio-Technical Systems
Ezio Manzini
62 Can an Urban Community Independently Run Its Own Waste Services?

Clare Brass, Flora Bowden and Kate McGeevor
66 Anthropocene Nights
Benedict Singleton
72 Peak Oil and Transition Towns
Rob Hopkins
78 Everything We Need: Scarcity, Scale, Hyperobjects
Timothy Morton
82 Investing in the Ground: Reflections on Scarcity, Remediation and Obdurate Form
Douglas Spencer
88 Almost All Right: Vienna's Social Housing Provision
Andreas Rumpfhuber, Michael Klein and Georg Kolmayr
94 Icelandic Initiatives
Arna Mathiesen
100 Beyond the Scarcities of Affluence: An 'Alternative Hedonist' Approach
Kate Soper
102 New York City (Steady) State
Michael Sorkin
110 No Frills and Bare Life: Cheapness and Democracy
Alejandro Zaera-Polo
114 Austeria: City of Minimum Consumption
Daliana Suryawinata and Winy Maas
118 Mapping in Hackney Wick and Fish Island: Observation is Proposition
Liza Fior
122 Norway Was Never So Poor!
Edward Robbins, Christian Hermansen Cordua and Barbara E Ascher
130 The Collision of Scarcity and Expendability in Architectural Culture of the 1960s and 1970s
Steve Parnell
136 counterpoint Is Sustainability Just Another 'Ism'?
Hattie Hartman
141 Contributors
See More
Buy Both and Save 25%!
Scarcity: Architecture in an Age of Depleting Resources (US $45.00)
-and- Iran: Past, Present and Future (US $40.00)
Total List Price: US $85.00
Discounted Price: US $63.75 (Save: US $21.25)
Cannot be combined with any other offers. Learn more.