Iran: Past, Present and Future
ISBN: 978-1-119-97450-5
136 pages
May 2012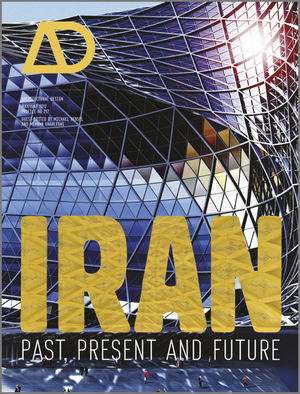 Over the last few decades, Iranian architects have made a significant contribution to architectural design. This has, however, remained largely unrecognised internationally, as architects in Iran have had little exposure in publications abroad and the diaspora of well-known Iranian designers working in the West, such as Hariri & Hariri and Nader Tehrani of NADAAA, are not necessarily associated with their cultural background. Moreover Iran, or rather Persia, has one of the richest and longest architectural heritages, which has a great deal of untapped potential for contemporary design. The intention of this issue is both to introduce key works and key architects from a range of generations – at home and abroad – and to highlight the potential of historical structures for contemporary architecture.
Features Hariri & Hariri, Nader Tehrani of NADAAA, Farjadi Architects, and studio INTEGRATE.
Places the spotlight on emerging practices in Iran: Arsh Design Studio, Fluid Motion Architects, Pouya Khazaeli Parsa and Kourosh Rafiey (Asar).
Contributors include: Reza Daneshmir and Catherine Spiridonoff, Farrokh Derakhshani, Darab Diba, Dr Nasrine Faghih and Amin Sadeghy, Farshad Farahi, Mehran Gharleghi and Michael Hensel.
Looks at garden and landscape design as well as the urban fabric in Iran from a historical and contemporary context.
Includes articles on the work of post-revolutionary architecture.
See More
EditorIal 5
Helen Castle
About the Guest Editors 6
Michael Hensel and Mehran Gharleghi
Spotlight 8
Visual highlights of the issue
Introduction 16
Iran: Past, Present and Future
Michael Hensel and Mehran Gharleghi
Towards an Architectural History of Performance: Auxiliarity, Performance and Provision in Historical Persian Architectures 26
Michael Hensel, Defne Sunguroğlu Hensel, Mehran Gharleghi and Salmaan Craig
Persian Gardens and Landscapes 38
Nasrine Faghih and Amin Sadeghy
World of Similitude: The Metamorphosis of Iranian Architecture 52
Farshad Farahi
Subterreanean Landscape: The Far-Reaching Influence of the Underground Qanat Network in Ancient and Present-Day Iran 62
Reza Daneshmir and Catherine Spiridonoff
Contemporary Architecture of Iran 70
Darab Diba
Assimilating the Authentic with the Contemporary: The Work of Hadi Mirmiran 1945–2006 80
Saman Sayar
Practices @ Home: Assimilating the Past and the Present for a Visionary Architecture 88
Mehran Gharleghi
Practices Abroad: Today's Diaspora Tomorrow's Architecture 104
Michael Hensel
Latent Futures of Iranian Architecture 120
Michael Hensel
Counterpoint 128
Iran in the Regional Context
Farrokh Derakhshani
Contributors 135
See More
Michael Hensel is an architect, researcher and writer. He is Professor for 'Research by Design' at AHO (the Oslo School of Architecture and Design), where he is currently developing an architecture research centre. He co-developed the curriculum of the Emergent Technologies and Design Program and co-directed it from 2001 to 2009. Hensel has taught, lectured and held visiting professorships and fellowships in Europe, the Americas, Asia and Australia. He is the author and editor of numerous publications.
Mehran Gharleghi received his Master of Architecture from the Emergent Technologies and Design Master Programme at the Architectural Association. He is an architect and researcher. He has been collaborating with prominent architects in Iran since 2004 and is the co-founder of Studio Integrate in London with Amin Sadeghy.
See More