E-book
Beekeeping For Dummies, UK Edition
ISBN: 978-1-119-97568-7
358 pages
September 2011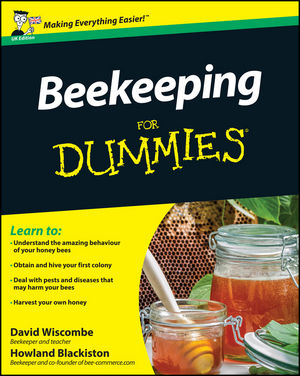 The fast and easy way to start and maintain a hive
Beekeeping For Dummies is a practical, step-by-step beginner's guide to beekeeping. It gives you plain-English guidance on everything you need to know to start your own beehive, from buying the right equipment, sourcing bees, and locating your hive to maintaining a healthy colony and harvesting honey. Plus, you'll get the latest information on the causes and effects of bee disease, colony collapse disorder, and the impact the sudden disappearance of the honeybee has on our environment and economy.
Here, you'll get trusted information on beekeeping in the UK, specifically written to address climate, buying equipment, locating hives, the local impact of colony collapse disorder and ways to avoid or minimise the risk to your hive, seasonal beekeeping tasks, local beekeeping associations, and updated content on urban beekeeping.
Understand the anatomy of your bees
Learn techniques and tips for harvesting, bottling, packaging, and selling honey
Discover the benefits of beekeeping
Learn techniques on obtaining and hiving your bees
If you're a beginner beekeeper, taking a beekeeping course, or just have an interest in the plight of the honeybee,
Beekeeping For Dummies
has you covered!
See More
Introduction 1
Part I: Getting Hooked on Honey Bees 7
Chapter 1: To Bee or Not to Bee? 9
Chapter 2: Life Inside the Honey Bee Hive 21
Part II: Starting Your Adventure 41
Chapter 3: Locating Your Hive 43
Chapter 4: Stocking Up on Basic Beekeeping Equipment 51
Chapter 5: Obtaining and Hiving Your Bees 81
Part III: Looking Inside Your Hive 97
Chapter 6: Opening Your Hive 99
Chapter 7: What to Look for when You're Inspecting 109
Chapter 8: Your Work throughout the Seasons 129
Part IV: Common Problems and Simple Solutions 145
Chapter 9: Heading Off Potential Problems 147
Chapter 10: Treating Diseases and Considering Colony Collapse Disorder 169
Chapter 11: Buzz Off! Dealing with Honey Bee Pests 183
Chapter 12: Raising Your Own Queens 201
Part V: Sweet Rewards 223
Chapter 13: Getting Ready for the Golden Harvest 225
Chapter 14: Honey, I'm Home: Harvest Time 239
Part VI: The Part of Tens 253
Chapter 15: Ten Fun Things to Do with Bees 255
Chapter 16: Ten Frequently Asked Questions about Bee Behaviour 267
Chapter 17: Ten Delicious Honey Recipes 271
Appendix A: Helpful Resources 279
Appendix B: Glossary 291
Index 297
See More
David Wiscombe is a beekeeping expert who has been keeping bees for over 50 years. He also teaches novice beekeepers and runs the beekeeping course at River Cottage. Howland Blackiston has more than 20 years' experience keeping bees. He has written many articles on beekeeping and been a keynote speaker at conferences in over 40 countries.
See More