E-book
Dad's Guide to Pregnancy For Dummies, UK Edition
ISBN: 978-1-119-97725-4
336 pages
September 2011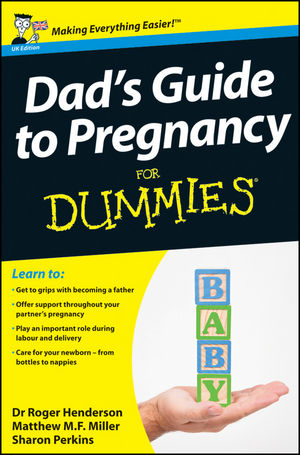 Practical, hands-on information for fathers-to-be
Dad's Guide to Pregnancy For Dummies is packed with practical, straightforward information for fathers-to-be, covering all of the logistical, physical, and emotional aspects of pregnancy from a dad's unique point of view.
When it comes to pregnancy, dads' roles have changed so much in the past few decades that expectant fathers don't always know where to turn to for guidance and advice on this milestone event. Now they do!
Dad's Guide to Pregnancy For Dummies covers:
What to expect at doctor's visits
Tips for being a supportive partner during pregnancy and preparing for fatherhood
Advice on birth plans, labour and delivery, and the first days and weeks of a baby's life
Packed with helpful information on the typical struggles and feelings expectant fathers face, Dad's Guide to Pregnancy For Dummies gives first-time fathers and veteran dads alike a wealth of useful information.
See More
Introduction 1
Part I: So You Want to Be a Dad . . . 7
Chapter 1: Fatherhood: A Glorious, Scary, Mind-Boggling and Amazing Experience 9
Chapter 2: Beyond the Bed: Conception Basics 25
Part II: Great Expectations: Nine Months and Counting 47
Chapter 3: Surviving Sudden Doubts and Morning Sickness: The First Trimester 49
Chapter 4: Growing Into the Second Trimester 65
Chapter 5: The Fun Stuff: Nesting, Preparing and Naming 81
Chapter 6: Expecting the Unexpected 95
Chapter 7: In the Home Stretch: The Third Trimester 113
Chapter 8: The Co-Pilot's Guide to Birthing Options 125
Part III: Game Time! Labour, Delivery and Baby's Homecoming 141
Chapter 9: Surviving Labour and Delivery 143
Chapter 10: Caring for Your Newborn 165
Chapter 11: Supporting the New Mum 187
Part IV: A Dad's Guide to Worrying 207
Chapter 12: Dealing with Difficult Issues after Delivery 209
Chapter 13: Daddy 999: Survival Tips for Bumps, Lumps and Scary Moments 223
Chapter 14: Time and Money: The High Cost of Having a Baby 245
Chapter 15: Planning for Your New Family's Future 265
Part V: The Part of Tens 277
Chapter 16: Ten Things She Won't Ask for but Will Expect 279
Chapter 17: Ten Ways to Be a Super Dad from Day One 285
Chapter 18: Ten Musts for the Stay-at-Home Dad 291
Index 297
See More
Dr Roger Henderson
is a practising GP. He frequently appears on radio and television and writes for a number of national publications.
Matthew M.F. Miller is a stay-at-home dad and author.
Sharon Perkins is a registered nurse and the author of several For Dummies books.
See More