E-book
Organic Gardening for Dummies, UK Edition
ISBN: 978-1-119-97728-5
384 pages
October 2011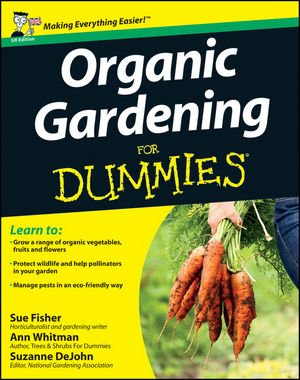 Reduce a garden's impact on both the environment and the wallet
Organic Gardening For Dummies shows readers the way to ensure a healthy harvest from an environmentally friendly garden. It covers information on the newest and safest natural fertilizers and pest control methods, composting, cultivation without chemicals, and how to battle plant diseases. It also has information on updated equipment and resources. It helps the reader to plant organically year-round, using herbs, fruits, vegetables, lawn care, trees and shrubs, and flowers.
Organic Gardening For Dummies show readers how to:
Plan out the perfect organic garden
Protect wildlife and help pollinators in a garden
Grow a range of organic vegetables, fruits and flowers
Manage pests in an eco-friendly way
See More
Intro Introduction
I Understanding the Basics of Organic Gardening
1 Gardening Organically: The Basic Techniques
2 Benefitting You and the World: Great Reasons to Go Organic
3 Understanding and Planning Your Site
II Getting Stuck into Soil, Compost and Fertilisers
4 Digging Beneath the Surface: Soils
5 Building Healthy Soil
6 Composing Great Compost: Let the Rotting Begin!
7 Enriching the Earth with Organic Fertilisers
III Growing Organically in Your Garden
8 Settling in Plants and Keeping Them Happy
9 Enjoying Home-Grown Feasts
10 Raising Organic Vegetables
11 Growing Herbs for the Home and Garden
12 Picking from the Berry Patch
13 Cultivating Fruits and Nuts for Your Organic Orchard
14 Saying It with Flowers
15 Managing Garden Trees and Shrubs
16 Creating and Caring for Your Organic Lawn
IV Managing Problems
17 Creating a Natural Balance: Preventing Pests and Diseases Organically
18 Managing and Controlling Insect Pests
19 Battling Plant Diseases
20 Outwitting Invading Creatures
21 Weed It and Reap!
V The Part of Tens
22 Ten Best Organic Gardening Practices
23 Ten Ways to Be Eco-friendly
Index
See More
Sue Fisher is a horticulturalist and gardening writer who has written for many publications over 20 years, including BBC Gardener's World magazine. She is the author of ten other popular gardening books, including Gardening For Dummies. Ann Whitman is the author of Trees & Shrubs For Dummies and the first edition of Organic Gardening For Dummies. Suzanne DeJohn is an editor with the National Gardening Association – the leading garden-based educational non-profit organisation in the USA.
See More