The Smashing Idea Book: From Inspiration to Application
ISBN: 978-1-119-97742-1
416 pages
August 2011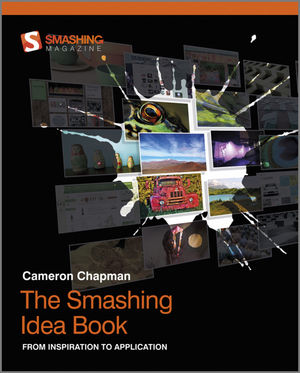 An unparalleled compendium of inspirational designs, photos, and web site looks
As the world's most popular resource for web designers and developers, Smashing Magazine has a reputation for inspiring and informing and this new book upholds that stellar esteem. Unlike most other books available on the shelf that only provide thumbnail images, The Smashing Idea Book offers a lavish array of timeless and enduring graphic designs, photos, images, and web site designs... and then goes one step further to present you with practical guidance on how to apply this inspirational selection to your own designs.
You'll benefit from the coverage on current trends as well as valuable advice on where to go online to discover your own sources of inspiration.
Provides inspiration to web designers from a variety of sources, including existing web site designs, graphic designs, product design, photography, and more
Encourages you to look to all areas of your life for inspiration and provides you with methods for finding more creativity beyond the book
Offers helpful advice on how to use those visuals as inspiration and translate them into unique and memorable web site designs
Examines what makes for good design, looks at a variety of web site design styles, and explores other avenues of inspiration including fashion, architecture, and interior design
The Smashing Idea Book is a great idea if you're looking for design inspiration and motivation!
See More
Preface xiii
PART I: FINDING INSPIRATION 1
Chapter 1: Types of Inspiration 3
Abstract Inspiration 4
Color 4
Shape 6
Textures 7
Patterns 8
Negative Space 9
Where to Find Abstract Inspiration 10
Direct Inspiration 10
Headers, Footers, and Sidebars 11
General Layout 14
Color Scheme 17
Patterns and Textures 17
Typography 19
Other Graphical Elements 21
Don't Copy 22
Chapter 2: What Makes a Good Design? 23
Visual Balance 24
Color 26
Traditional Color Schemes 26
Proportion 30
Priority 31
Rhythm 32
Unity 34
Purpose 35
How to Look at Designs 35
PART II: INSPIRING IMAGES 37
Chapter 3: Website Designs 39
Drawing Inspiration from Website Styles 40
Minimal and Clean 40
Grunge and Retro 51
Bright and Colorful 57
Organic and Handmade 63
Drawing Inspiration by Website Type 74
Blogs and Magazine Sites 74
E-commerce Sites 80
Company and Corporate Sites 90
Portfolios 101
Event and Community Sites 112
Personal and Professional 118
Drawing Inspiration by Industry 128
Hospitality 128
Arts and Entertainment 138
Apps and Soft ware 148
Technology 159
Fashion 166
Literature and Books 176
Conclusion 187
Chapter 4: Other Designs 189
Graphic Design 190
Print Design 190
Product Packaging 202
Architecture and Interior Design 208
Exterior Architecture 208
Interior Architecture 216
Interior Design 224
Furnishings and Accessories 233
Product Design 242
Toys 242
Everyday Items 248
Technology 254
Textiles 260
Conclusion 268
Chapter 5: Photography 269
Black and White 270
Eff ects 280
HDR 280
Lomography 291
Other Eff ects 300
Classic Photography 308
People 308
Landscapes 317
Macro 328
Conclusion 340
PART III: USING INSPIRATION 341
Chapter 6: Creating Something New from Direct Inspiration 343
Dissecting a Design 344
Adapting Individual Elements 350
Conclusion 356
Chapter 7: Creating Something New from Abstract Inspiration 357
Dissecting an Image 358
Adapting Elements 364
Conclusion 367
Bonus Chapter: Finding Inspiration in Everyday Life 369
Index 393
See More
Cameron Chapman (Orleans, VT) is a freelance designer and writes on the subject of design for Smashing Magazine, Mashable, Webdesigner Depot, Six Revisions, and other prominent design blogs.
See More