E-book
Applying Theory to Educational Research: An Introductory Approach with Case Studies
ISBN: 978-1-119-97999-9
232 pages
October 2011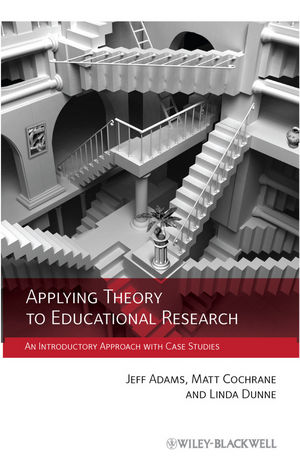 Applying Theory to Educational Research
provides educational researchers with an accessible introduction to the process of selecting and applying theories in their work.
Offers an innovative and accessible approach to educational research by providing practical examples of the application of theory

Gives 'hands-on' accounts for the researcher and practitioner

Explains and discusses complex ideas in the light of experience in using and applying them

Covers the application of major theorists such as Bourdieu, Foucault, Weber, Derrida, and Vygotsky
For beginning researchers, theory can be one of the most stimulating – yet intellectually daunting – aspects of academic work. Applying Theory to Educational Research provides new educational researchers with a uniquely accessible introduction to the process of selecting and applying theories in their own work. Written by a team of leading educationalists writing from the perspective of new researchers, clearly structured chapters introduce individual theorists and their ideas, present their applications and limitations, and provide extensive references and suggestion for further reading. Major theorists such as Pierre Bourdieu, Michel Foucault, Max Weber, Jacques Derrida, and Lev Vygotsky are included, along with many more recent educational theorists. Throughout the text, helpful hints and signposts are provided to alert readers to the potential pitfalls of applying theory.
Innovative and illuminating, Applying Theory to Educational Research offers a wealth of practical insights that will point the way for novice researchers struggling to navigate an often daunting intellectual obstacle course.
See More
About the Contributors vii
Preface xiii
Acknowledgements xv
Introduction 1
Jeff Adams, Matt Cochrane and Linda Dunne
Part I New Voices: Beginning Researchers Apply Theory 11
1 Learning and Maintaining Professional Expertise Within a Multi-Professional Critical Care Team 15
Jill Cochrane
2 The 'Q' Standards and Initial Teacher Training: The Discursive Formation of Teachers and their Trainers 31
Paul Bartle
3 Power and Status Theories in Teachers' Professional Development 47
Karen Castle
4 The Process of Technology Learning: Applying Bruner's Theory on Play, Discovery and Cultural Learning to the Acquisition of ICT Capability 61
Paula Beer
Part II Emergent Voices: Accounts by Researchers Becoming Familiar with the Use of Theory 75
5 Teachers' Professional Identity: Theoretical Perspectives on Workplace Learning in the Teaching Context 81
Rob Foster
6 Children's University Aspirations and the Effects of Cultural and Social Capital 95
Matt Cochrane

7 Finding Theory Through Collaborative Research 109
Clare Woolhouse
8 How Applying a Discourse-Based Approach to Investigate Inclusion Changed a Research Project and a Way of Thinking 123
Linda Dunne
Part III Voices of Experience: Accounts by Researchers Versed in the Use of Theory 139
9 Should I be Singing This, and if So, How High?: Theoretical Approaches to Boyhood and Masculinity 145
Martin Ashley
10 Theorizing from Bricolage: Researching Collaboration in Art and Design Education 157
Madeleine Sclater
11 Constructivism and the Pedagogy of Teacher Education: Reflections on Practice 175
Graham Rogers
12 Developing Professional Practice through Action Research: Theory-Generative Approaches in Practitioner Research 189
Mary McAteer
13 Art Practice as Education Research 203
Jeff Adams
Postscript 219
Jeff Adams, Matt Cochrane and Linda Dunne
Index 221
See More
Jeff Adams
is Professor of Education at the University of Chester and Principal Editor of the
International Journal of Art and Design Education.
He is the author of
Documentary Graphic Novels
and
Social Realism
(2008) and co-author of
Teaching Through Contemporary Art
(2008).
Matt Cochrane is Senior Lecturer in Education at Edge Hill University. He is a co-author of Teaching Science (2009).
Linda Dunne is Senior Lecturer and Research Fellow at Edge Hill University. She is a member of the British Educational Research Council.
See More