X-ray Absorption Spectroscopy for the Chemical and Materials Sciences
ISBN: 978-1-119-99090-1
216 pages
February 2018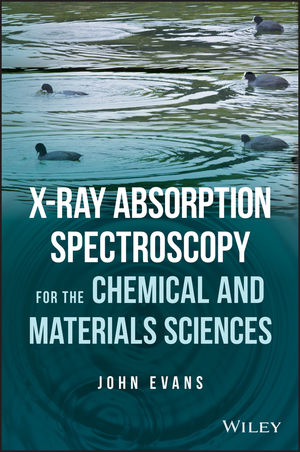 A clear-cut introduction to the technique and applications of x-ray absorption spectroscopy
X-ray Absorption Spectroscopy is being applied to a widening set of disciplines. Applications started with solid state physics and grew to materials science, chemistry, biochemistry and geology. Now, they cut across engineering materials, environmental science and national heritage — providing very detailed and useful information facilitating understanding and development of materials. This practical guide helps investigators choose the right experiment, carry it out properly and analyze the data to give the best reliable result. It gives readers insights to extract what they need from the world of large-scale experimental facilities like synchrotrons, which seem distant to many laboratory scientists.
X-ray Absorption Spectroscopy for the Chemical and Materials Sciences seeks to educate readers about the strengths and limitations of the techniques, including their accessibility. Presented in six sections, it offers chapters that cover: an introduction to X-ray absorption fine structure XAFS; the basis of XAFS; X-ray sources; experimental methods; data analysis and simulation methods; and case studies.
A no-nonsense introduction to the technique and applications of x-ray absorption spectroscopy
Features Questions to support learning through the book
Relevant to all working on synchrotron sources and applications in physics, materials, environment/geology and biomedical materials
Four-color representation allows easy interpretation of images and data for the reader
X-ray Absorption Spectroscopy for the Chemical and Materials Sciences is aimed at Masters-level and PhD students embarking on X-ray spectroscopy projects as well as scientists in areas of materials characterization.
See More
About the author
Preface
Acknowledgements
Glossary and abbreviations
1 Introduction to X-ray absorption fine structure XAFS
1.1 Materials: Texture and Order
1.2 Absorption and Emission of X-rays
1.3 XANES and EXAFS
1.4 Information Content
1.5 Using sources as were
1.6 Using light sources now and to be
1.7 Questions
2 Basis of XAFS
2.1 Interactions of X-Rays with Matter
2.2 Secondary Emissions
2.3 Effects of Polarization
2.4 Questions
3 X-ray Sources
3.1 Storage Rings
3.2 Other Sources
3.3 Beamline Architecture
3.4 Effect of Photon Energy on Experimental Design
3.5 Questions
4 Experimental Methods
4.1 Sample Characteristics
4.2 Scanning Modes
4.3 Detection Methods
4.4 Spatial Resolution
4.5 Combining Techniques
4.6 X-ray Free Electron Lasers (XFELs)
4.7 Questions
5 Data Analysis and Simulation Methods
5.1 Background Subtraction
5.2 Compositional analysis
5.3 Structural Analysis
5.4 Present to Future Opportunities
5.5 Questions
6 Case Studies
6.1 Chemical Processing
6.2 Functional Materials
6.3 Imaging and Natural and Environmental Materials
6.4 Imaging of Heritage Materials
6.5 Questions
Index
See More
JOHN EVANS, PHD, is currently Emeritus Professor in Inorganic Chemistry at the University of Southampton and a visiting scientist at the Diamond Light Source. Previously, he was Science Program Advisor at Diamond. He was awarded the Royal Society of Chemistry Tilden Medal in 1994 and the Royal Society of Chemistry Meldola Medal in 1978.
See More