Handbook of Marine Craft Hydrodynamics and Motion Control
ISBN: 978-1-119-99149-6
Hardcover
596 pages
May 2011
US $200.00

Add to Cart
This price is valid for United States. Change location to view local pricing and availability.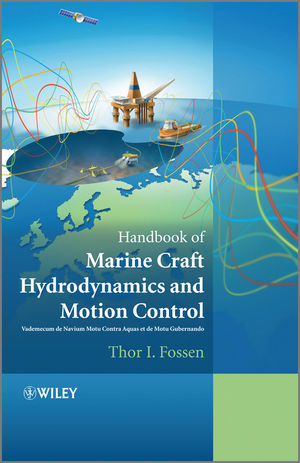 Other Available Formats:
E-book
About the Author.
Preface.
List of Tables.
I Marine Craft Hydrodynamics.
1 Introduction.
1.1 Classification of Models.
1.2 The Classical Models in Naval Architecture.
1.3 Fossen's Robot-Like Vectorial Model for Marine Craft.
2 Kinematics.
2.1 Reference Frames.
2.2 Transformations between BODY and NED.
2.3 Transformations between ECEF and NED.
2.4 Transformations between BODY and FLOW.
3 Rigid-Body Kinetics.
3.1 Newton-Euler Equations of Motion about CG.
3.2 Newton-Euler Equations of Motion about CO.
3.3 Rigid-Body Equations of Motion.
4 Hydrostatics.
4.1 Restoring Forces for Underwater Vehicles.
4.2 Restoring Forces for Surface Vessels.
4.3 Load Conditions and Natural Periods.
4.4 Ballast Systems.
5 Seakeeping Theory.
5.1 Hydrodynamic Concepts and Potential Theory.
5.2 Seakeeping and Maneuvering Kinematics.
5.3 The Classical Frequency-Domain Model.
5.4 Time-Domain Models including Fluid Memory Effects.
5.5 Case Study: Identification of Fluid Memory Effects.
6 Maneuvering Theory.
6.1 Rigid-Body Kinetics.
6.2 Potential Coefficients.
6.3 Nonlinear Coriolis Forces due to Added Mass in a Rotating Coordinate System.
6.4 Viscous Damping and Ocean Current Forces.
6.5 Maneuvering Equations.
7 Models for Ships, Offshore Structures and Underwater Vehicles.
7.1 Maneuvering Models (3 DOF).
7.2 Autopilot Models for Heading Control (1 DOF).
7.3 DP Models (3 DOF).
7.4 Maneuvering Models including Roll (4 DOF).
7.5 Equations of Motion (6 DOF).
8 Environmental Forces and Moments.
8.1 Wind Forces and Moments.
8.2 Wave Forces and Moments.
8.3 Ocean Current Forces and Moments.
II Motion Control.
9 Introduction.
9.1 Historical Remarks.
9.2 The Principles of Guidance, Navigation and Control.
9.3 Setpoint Regulation,Trajectory-Tracking and Path-Following Control.
9.4 Control of Underactuated and Fully Actuated Craft.
10 Guidance Systems.
10.1 Target Tracking.
10.2 Trajectory Tracking.
10.3 Path Following for Straight-Line Paths.
10.4 Path Following for Curved Paths.
11 Sensor and Navigation Systems.
11.1 Low-Pass and Notch Filtering.
11.2 Fixed Gain Observer Design.
11.3 Kalman Filter Design.
11.4 Nonlinear Passive Observer Designs.
11.5 Integration Filters for IMU and Global Navigation Satellite Systems.
12 Motion Control Systems.
12.1 Open-Loop Stability and Maneuverability.
12.2 PID Control and Acceleration Feedback.
12.3 Control Allocation.
13 Advanced Motion Control Systems.
13.1 Linear-Quadratic Optimal Control.
13.2 State Feedback Linearization.
13.3 Integrator Backstepping.
13.4 Sliding-Mode Control.
Appendices.
A Nonlinear Stability Theory.
A.1 Lyapunov Stability for Autonomous Systems.
A.2 Lyapunov Stability of Nonautonomous Systems.
B Numerical Methods.
B.1 Discretization of Continuous-Time Systems.
B.2 Numerical Integration Methods.
B.3 Numerical Differentiation.
References. 
Index.