E-book
Rugby Union For Dummies, 3rd UK Edition
ISBN: 978-1-119-99182-3
384 pages
February 2011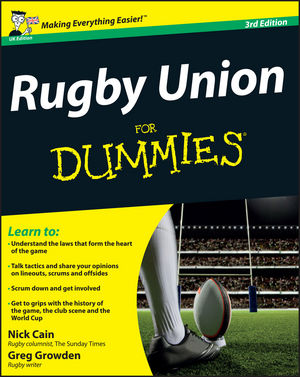 If you're new to the sport or you feel you could sharpen up your knowledge of the game, this guide is for you. Inside you'll find easy-to-understand advice on the basic rules and pitch positions, plus in-depth lessons on ball skills, fitness training, and techniques to outwit your opponents - all illustrated with entertaining stories from British and International rugby's back pages. In addition, you get a grounding in the local, national and international reaches of Rugby Union 
Rugby Union For Dummies 3rd Edition:
Features an in-depth and up-to-date look at the Laws that form the beautiful game
Covers all you will need to know about talking tactics and is perfect for anyone looking at swatting up on rugby for the World Cup and beyond
Advises on all you will need to know to get stuck in and play
Contains a new chapter on sevens as the sport will be a demonstration sport at London 2012 and a full sport at Rio 2016
See More
Introduction 1
Part I: Rugby: Roots, Boots and All 7
Chapter 1: Rudimentary Rugby 9
Chapter 2: The Aim of the Game 19
Chapter 3: Grab Your Rugby Gear 35
Part II: Getting Down and Dirty 45
Chapter 4: Location, Location, Location: Positions on the Pitch 47
Chapter 5: Laying Down the Laws 63
Chapter 6: Honing Your Skills 83
Chapter 7: Breaking Down the Breakdown 107
Chapter 8: Leaping Lineouts 123
Chapter 9: Talking Tactics 135
Chapter 10: Talented Training 151
Chapter 11: Coaching 167
Part III: Welcome to Planet Rugby 183
Chapter 12: The World Cup 185
Chapter 13: The International Scene 201
Chapter 14: Magnifi cent Sevens 217
Chapter 15: Home and Away 227
Chapter 16: The Domestic Scene 243
Part IV: Following the Game: The Informed Fan 255
Chapter 17: Compulsive Viewing: Rugby on the Screen 257
Chapter 18: Keeping Up with the News 269
Chapter 19: Spectating and Sobriquets 281
Part V: The Part of Tens 293
Chapter 20: The Ten Best British Players of All Time 295
Chapter 21: Ten Matches Made in Rugby Heaven 305
Chapter 22: Ten Peculiar Facts About Rugby 315
Part VI: Appendixes 325
Appendix A: Honour Boards 327
Appendix B: Glossary 347
Appendix C: Key Rugby Organisations 361
Index 367
See More
Nick Cain has been a rugby writer for The Sunday Times since 1995, writing features, news stories, match reports and ghostwriting columns for Lawrence Dallaglio, Jeremy Guscott and Bob Dwyer. He was editor of Rugby World magazine, covering Lions tours and World Cups. Greg Growden is a rugby correspondent and author of the acclaimed rugby book Gold, Mud 'N' Guts.
See More