E-book
Lean Six Sigma For Dummies
ISBN: 978-1-119-99226-4
384 pages
November 2010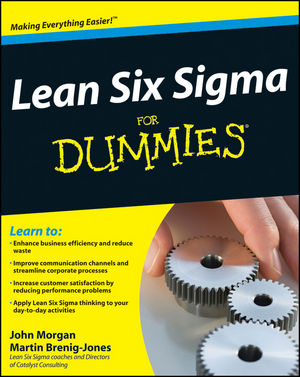 With the growing business industry there is a large demand for greater speed and quality, for projects of all natures in both small and large businesses. Lean Six Sigma is the result of the combination of the two best-known improvement methods: Six Sigma (making work better, of higher quality) and Lean (making work faster, more efficient).

Lean Six Sigma For Dummies outlines they key concepts in plain English, and shows you how to use the right tools, in the right place, and in the right way, not just in improvement and design projects, but also in your day-to-day activities. It shows you how to ensure the key principles and concepts of Lean Six Sigma become a natural part of how you do things so you can get the best out of your business and accomplish your goals better, faster and cheaper.

About the author

John Morgan has been a Director of Catalyst Consulting, Europe's leading provider of lean Six Sigma solutions for 10 years.

Martin Brenig-Jones is also a Director at Catalyst Consulting. He is an expert in Quality and Change Management and has worked in the field for 16 years.
See More
Introduction.
Part I: Lean Six Sigma Basics.
Chapter 1: Defining Lean Six Sigma.
Chapter 2: Understanding the Principles of Lean Six Sigma.
Part II:Working with Lean Six Sigma.
Chapter 3: Identifying Your Customers.
Chapter 4: Understanding Your Customers' Needs.
Chapter 5: Determining the Chain of Events.
Part III: Assessing Performance.
Chapter 6: Gathering Information.
Chapter 7: Presenting Your Data.
Chapter 8: Analysing What's Affecting Performance.
Part IV: Improving the Processes.
Chapter 9: Identifying Value-Added Steps and Waste.
Chapter 10: Discovering the Opportunity for Prevention.
Chapter 11: Identifying and Tackling Bottlenecks.
Chapter 12: Understanding the People Issues.
Part V: The Part of Tens.
Chapter 13: Ten Best Practices.
Chapter 14: Ten Pitfalls to Avoid.
Chapter 15: Ten Places to Go for Help.
Index.
See More
John Morgan and Martin Brenig-Jones are Directors of Catalyst Consulting, Europe's leading provider of Lean Six Sigma solutions. John's primary responsibilities are in the areas of product design and development, and he has extensive training and coaching experience. Martin is an expert in quality and change management and has trained over 1,000 people in Lean Six Sigma techniques.
See More