E-book
Living Gluten-Free For Dummies, UK Edition
ISBN: 978-1-119-99252-3
400 pages
December 2010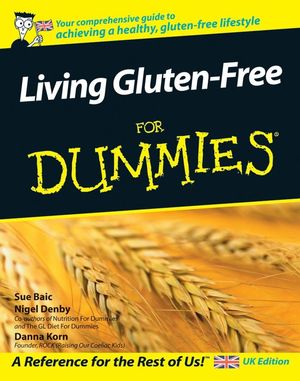 If you have a wheat allergy, gluten intolerance, coeliac disease, or just want to enjoy the benefits of a diet free from wheat, barley and rye, then this book is for you. Our expert author team of registered dieticians explain the basics of gluten intolerance and the medical problems associated with it, plus give you practical guidance on how to make the transition to a gluten-free lifestyle. Including over 60 delicious gluten-free recipes and tips on eating out, you can learn to control your food intake wherever you are.
Living Gluten-Free For Dummies covers:
Knowing what you can and can't eat
Shopping and deciphering food labels
Coping with a gluten-free lifestyle on a day to day basis
Cooking crowd-pleasing gluten-free meals
Raising healthy gluten-free kids
See More
Introduction.
Part I: Ready, Set, Going Gluten-Free.
Chapter 1: Getting Started: The Basics of Being Gluten-Free.
Chapter 2: Going Gluten-Free: Who's Doing It and Why.
Chapter 3: Taking a Closer Look at Coeliac Disease.
Part II: Digging Deeper into Eating Gluten-Free.
Chapter 4: Grasping the Ground Rules of the Gluten-Free Diet.
Chapter 5: Scrutinising the Evidence: Making Sure It's Gluten-Free.
Chapter 6: Acquiring a Taste for Nutritious Gluten-Free Health.
Part III: Planning and Preparing: The Preludes to Cooking.
Chapter 7: Making Sense of Smart Gluten-Free Shopping.
Chapter 8: Cooking with Confidence: Tips and Techniques for the Gluten-Free Friendly Kitchen.
Part IV: From Menus to Meals: Recipes for a Gluten-Free Lifestyle.
Chapter 9: First Things First: Beginning with Breakfast.
Chapter 10: Stylish Gluten-Free Starters.
Chapter 11: Sensational Gluten-Free Soups, Salads, and Side Dishes.
Chapter 12: Mustering Up Mouth-Watering Free Mains.
Chapter 13: Enjoying Foods You Thought Were a Thing of the Past: Gluten-Free Pizza, Pasta, and Bread.
Chapter 14: Getting Your (Gluten-Free) Just Desserts.
Part V: Living – and Loving – the Gluten-Free Lifestyle.
Chapter 15: Getting Out and About: Gluten-Free Eating Away from Home.
Chapter 16: Raising Happy, Healthy, Gluten-Free Kids.
Chapter 17: Beating the Gluten-Free Blues: Overcoming Emotional Obstacles.
Part VI: The Part of Tens.
Chapter 18: Ten Benefits of Being Gluten-Free.
Chapter 19: Ten Tips to Help You (Or Your Child) Love the Gluten-Free Lifestyle.
Chapter 20: Ten Reasons to Join Coeliac UK.
Index.
See More
Sue Baic
and
Nigel Denby
are Registered Dietitians and the co-authors of Nutrition For Dummies and The GL Diet For Dummies.
Danna Korn founded ROCK (Raising Our Coeliac Kids), and has lived gluten-free since 1991.
See More