The Handbook of Market Intelligence: Understand, Compete and Grow in Global Markets
ISBN: 978-1-119-99364-3
256 pages
November 2011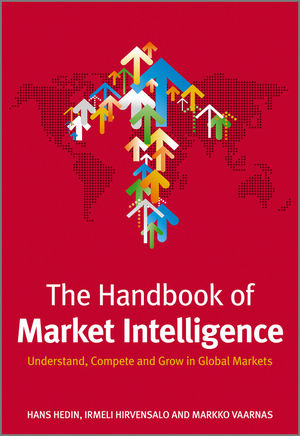 Product Description
This resource gives readers a step-by-step roadmap for establishing, conducting, and further developing market intelligence programs within an organization, turning market data into actionable insights. It is full of best practice advice based on hundreds of real-life international case studies. The material is backed up by extensive global survey data, providing readers with benchmark data on how intelligence programs are being organized, operated, and resourced worldwide. From the vast amount of examples, the authors have distilled Six Key Success Factors for organizing future-oriented corporate intelligence programs.

From the Inside Flap
Global companies spend millions of dollars on conducting Market Intelligence each year. Yet only 10% have achieved Market Intelligence capabilities that are truly world class. Such companies enjoy much higher efficiencies in decision making and strong return-on-investment on their Market Intelligence budgets.

What are their secrets? What can the other 90% do in order to ensure they have their Market Intelligence scope, processes, deliverables, tools, organization and culture right?

Get an insider's look at how some of the world's most respected international companies use Market Intelligence. This book provides over 40 enlightening case studies from companies such as Cisco Systems, ABB, Dunkin' Brands and Statoil, as well as findings from two global surveys on Market Intelligence programs and trends. It also features a step-by-step roadmap to help companies raise their intelligence ambitions, by using the six Key Success Factors outlined in the World Class Market Intelligence Framework developed by the authors.

Readers will be able to implement the practical ideas immediately and drive the systematic development of their own world class market intelligence functions – as well as benchmark their own results against global best practices.


See More
Preface vii
About the Authors xi

About Global Intelligence Alliance xi

PART 1 Market Intelligence In Global Organizations

1 Market Intelligence: Drivers and Benefits 3

2 Market Intelligence in Global Organizations: Survey Findings in 2011 21

PART 2 Roadmap To World Class Market Intelligence

3 Key Success Factors of World Class Market Intelligence 39

4 Intelligence Scope – Determining the Purpose, Target Groups, and Focus
Areas of an Intelligence Program 49

5 Intelligence Process – Turning Random Data into Meaningful Insight 63

6 Intelligence Deliverables – Building a High-Impact Market Intelligence Product Portfolio 73

7 Intelligence Tools – Collecting, Storing, and Communicating Intelligence 87

8 Intelligence Organization – The People and Resources that Generate the Impact 99

9 Intelligence Culture – Engaging the Organization in Market Intelligence 115

PART 3 Market Intelligence For Key User Groups

10 Market Intelligence for Current Awareness Across the Organization 127

11 Market Intelligence for Strategic Planning 141

12 Market Intelligence for Marketing, Sales, and Account Management 159

13 Market Intelligence for Innovation and Product Life Cycle Management 171

14 Market Intelligence for Supply Chain Management 185

PART 4 Developing World Class Market Intelligence Programs
15 Implementing Market Intelligence Programs 199

16 How to Develop an Existing Market Intelligence Program for Greater Impact 209

17 Trends in Market Intelligence Towards 2015 223

Index 237
See More
Hans Hedin
has a strong track record in the area of Market / Competitive Intelligence consulting. He spends most of his time advising companies on setting up and further developing their corporate intelligence programs, while being a recognized speaker and workshop leader in the field of strategic Market Intelligence. He runs Market Intelligence (MI) Programs, Scenario Analysis workshops and Intelligence Analysis training & coaching at GIA.  Mr. Hedin joined Global Intelligence Alliance in 2003, having previously worked in the consulting and banking industries and in the public sector.
Irmeli Hirvensalo joined GIA in 2001as an Analyst and has more recently held the positions of Senior Consultant, Director, Strategic Marketing and Director, Human Resources in the company.  She has presented and lectured about Market Intelligence topics to both companies and academic students. From early on, Hirvensalo has been part of the team producing the GIA White Paper series that is very much at the core of the company's consultative approach to MI.
Markko Vaarnas is the CEO and co-founder of GIA Group, founded in 1995, and has been responsible for the general management and international business development of the group since the beginning.  He has steered the development of the company from the ground up to an organization with  offices around the world. Vaarnas is a frequent presenter at international seminars and training events, while also leading consulting projects in Europe, USA and Asia.
See More