E-book
Winning on Betfair For Dummies, 2nd Edition
ISBN: 978-1-119-99661-3
210 pages
February 2011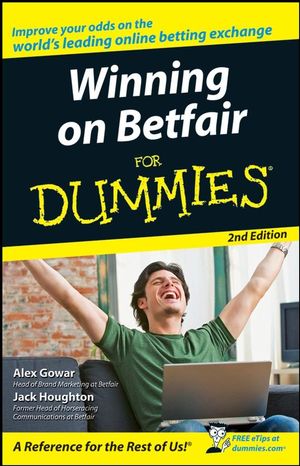 Betfair is the world's leading online betting exchange. Launched in 2000, its annual revenues reached £145m in 2006. In the last year, Betfair has more than doubled its number of registered users. Since the first edition of the book was published, the total number of Betfair websites has risen to 18, and an Australian exchange has launched. The services Betfair offer have also expanded, including a telephone betting operation and new games including poker, blackjack and baccarat.
This is the definitive insider's guide to playing – and winning – on Betfair. Written by Betfair insiders it gives you the full picture of how Betfair works; it explains the terms and jargon, helps you get started on the site, introduces every type of play – including poker and the Betfair Casino - and offers tips and insider know-how that both newcomers seasoned Betfair punters can use to maximise returns.
See More
Introduction.
Part I: Starting Out.
Chapter 1: Introducing Betfair.
Chapter 2: Starting Out with the Essentials.
Chapter 3: Managing Your Account.
Chapter 4: Choosing Your Market.
Part II: Let's Get Betting.
Chapter 5: Placing Your First Bet.
Chapter 6: Doing the Maths.
Chapter 7: Betting In-Play.
Chapter 8: Using Betfair Starting Price.
Chapter 9: Poker, Games, and Casino.
Part III: Getting Serious.
Chapter 10: Finding Information.
Chapter 11: Low-Risk Betting: Trading.
Chapter 12: Low-Risk Betting: Arbing.
Chapter 13: Going Pro.
Chapter 14: Controlling Your Gambling.
Part IV: The Part of Tens.
Chapter 15: Ten Common Mistakes to Avoid.
Chapter 16: Ten Top Tips.
Chapter 17: Ten Sporting Information Sources.
Chapter 18: Ten (or So) Most Amazing Markets.
Chapter 19: Ten Betfair Firsts.
Appendix: Glossary.
Index.
See More
Alex Gowar
is the Head of Brand Marketing at Betfair. A punter for 15 years, he joined Betfair in 2002 when it employed about 100 people and has watched in amazement as it has grown into a global business employing well over a thousand people. During that time he has written and produced more ads, emails, websites, and TV commercials than he dares remember.
Jack Houghton was the Head of Horseracing Communications at Betfair. He has been a life-long punter and jumped at the chance to work at Betfair when offered a job there in 2004. In 2007, he left the business to follow his dream of training racehorses full-time. He also works as a freelance journalist, writing about horseracing and betting. He won the Martin Wills Award for racing journalism in 2002.
See More