E-book
British History For Dummies, Illustrated Edition
ISBN: 978-1-119-99790-0
492 pages
February 2011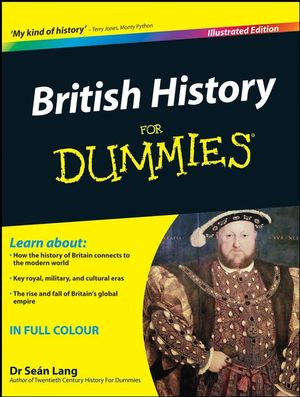 History is always a popular subject and British history has created some of the most lively and fascinating stories there are! Britain as we know it today has been shaped by centuries of political turmoil between state and church, as well as international conflicts, making its history a fascinating insight into how modern Britain has emerged.
For this special, hardback edition of British History For Dummies, we've added over 100 black and white and colour photos for an even more explosive experience of British history.
British History For Dummies Illustrated Edition:
British history is still a major topic of interest, emphasised by the continual TV coverage and documentaries
Inside you'll find rip-roaring stories of power-mad kings, executions, invasions, high treason, global empire-building and forbidden love- not bad for a nation of stiff upper lips!
Includes fascinating information in the fun For Dummies style- from the Stone Age right through to modern day Britain and everything in between!
Provides the ultimate British history experience and the hardback format with over 100 illustrations make it the perfect gift for amateur historians
See More
Introduction.
Part I: The British Are Coming!
Chapter 1: So Much History, So Little Time.
Chapter 2. Sticks and Stone Age Stuff.
Chapter 3: Woad Rage and Chariots: The Iron Age in Britain.
Part II: Everyone Else Is Coming! The Invaders.
Chapter 4. Ruled Britannia.
Chapter 5. Saxon, Drugs, and Rock 'n' Roll.
Chapter 6. Have Axe, Will Travel: The Vikings.
Chapter 7. 1066 and All That Followed.
Part III: Who's in Charge Around Here? The Middle Ages.
Chapter 8. England Gets an Empire.
Chapter 9. A Right Royal Time: The Medieval Realms of Britain.
Chapter 10. Plague, Pox, Poll Tax, and Ploughing - and Then You Die.
Part IV: Rights or Royals? The Tudors and Stuarts.
Chapter 11. Uneasy Lies the Head that Wears the Crown.
Chapter 12. A Burning Issue: The Reformation.
Chapter 13. Crown or Commons?
Chapter 14. Old Problems, New Ideas.
Part V: On the Up: The Eighteenth and Nineteenth Centuries.
Chapter 15. Let's Make a Country.
Chapter 16. Survival of the Richest: The Industrial Revolution.
Chapter 17. Children of the Revolutions.
Chapter 18. Putting on My Top Hat - The Victorians.
Chapter 19. The Sun Never Sets - But It Don't Shine Either.
Part VI: Don't Look Down: The Twentieth Century.
Chapter 20. The Great War: The End of Innocence - and Everything Else?
Chapter 21. Radio Times.
Chapter 22. TV Times.
Chapter 23. Interesting Times.
Part VII: The Part of Tens.
Chapter 24. Ten Top Turning Points.
Chapter 25. Ten Major Documents.
Chapter 26. Ten Things the British Have Given the World (Whether the World Wanted Them or Not).
Chapter 27. Ten Great British Places to Visit.
Chapter 28. Ten Britons Who Should Be Better Known.
Index.
See More
Dr Seán Lang studied history at Oxford and has been teaching it to school, college, and university students for the past twenty years. He is Senior Lecturer in History at Anglia Ruskin University. Seán has written textbooks on nineteenth and twentieth century history, and is co-editor of Twentieth Century history, and is co-editor of Twentieth Century History Review. He has advised both Government and Opposition on history teaching in schools and has written on history teaching for the Council of Europe. Seán is Honorary Secretary of the Historical Association and often appears on radio and television talking about historical topics - often because of this book.
See More